Emplifi Link is a Publisher link in bio feature that allows you to create and customize a dedicated link-in-bio microsite.
You can then schedule your link in bio content (photos, reels, links, grids) to align the microsite with your social media campaigns.
With Emplifi Link, you do not have to rely on third party services to get around the Instagram's internal limitation that prevents you from adding clickable links in posts.
You can see how Emplifi Link in Bio works, and built a quick prototype, in our interactive Link in Bio demo.
Prerequisites
You must have Emplifi's Smart or Integrate package to use Emplifi Link.
Create a link in bio page
Emplifi Link in Bio is integrated in the Publisher section. When you first click Link in Bio, the feature's welcome page opens.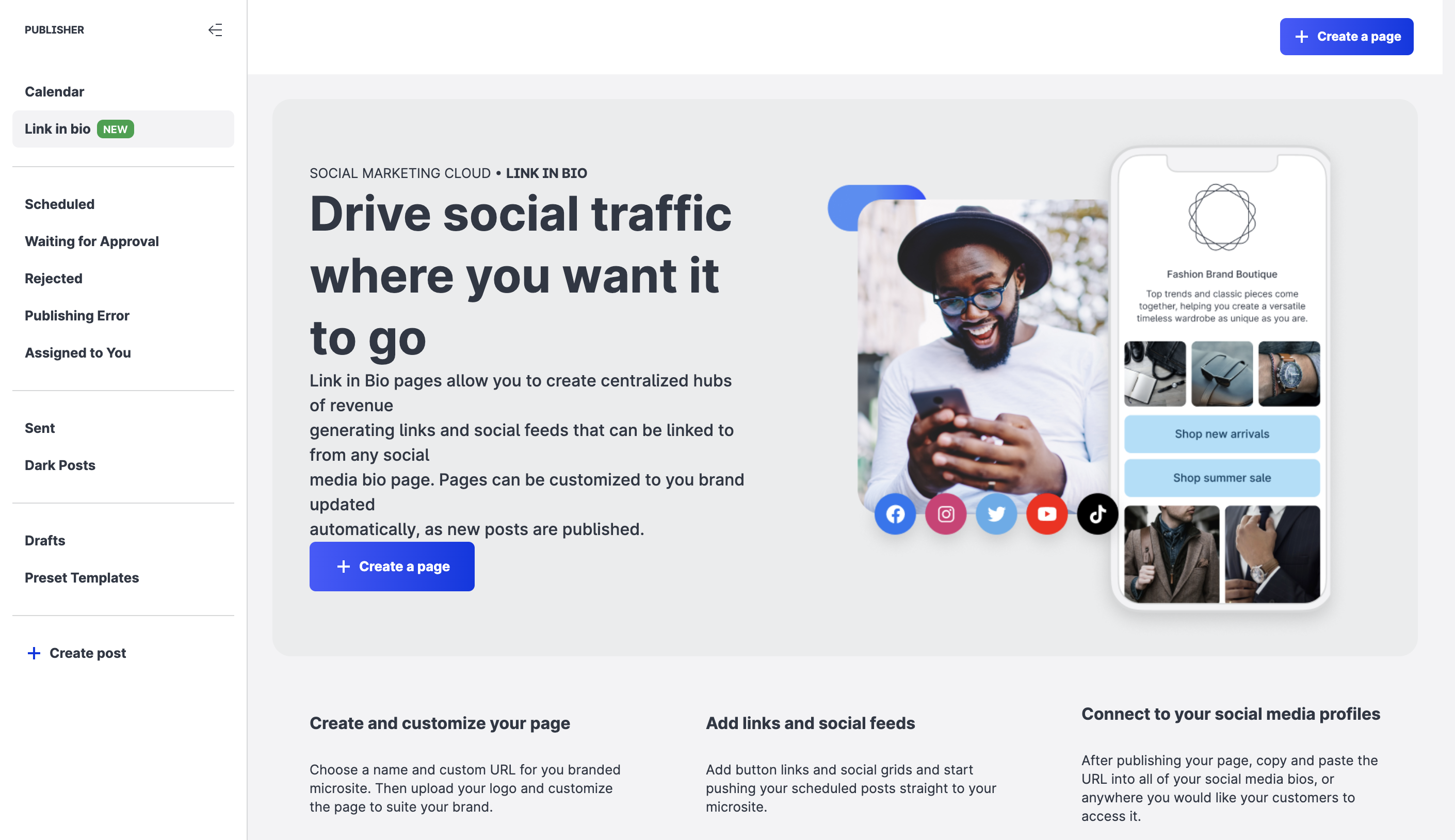 Steps:
Click Create a page.

In the pop-up that opens, define the URL and click Create page.
The end of the URL that you defined (acmelinkinbio in this case) becomes the Page title by default and you can rename it later to something catchier. This does not impact the URL.

Important:

Microsite URLs may only contain letters, numbers, underscores ("_"), and dashes ("-").

The URL cannot be changed later.

Name the page and enter the description of your page, then click Save.

Start building your page (microsite) with either adding a button or a social grid.
Your microsite will go live after you publish your first page element (a button or a social grid).
After your site is published, copy the URL and paste it into your social profile bio.
The URL is always displayed on top of your Emplifi Link workspace.
Share access to the microsite backend with specific users
By default, microsites are created with Global access. This means all users with the appropriate roles and permissions are able to see, edit, or delete a microsite.
If you instead share a microsite, only Link in bio admins and the users that you share the microsite with have access according to their Roles & permissions in Settings. This prevents you from accidentally losing access to a microsite if all the users whom the microsite is shared with are no longer with the company. To learn more, see Link in Bio User Permissions.
To share the Link in bio microsite with Specific Users, follow these steps:
If you are a Link in bio admin but cannot click the Share button for a microsite, please refresh your screen and try again.
Click the ellipsis button (…) and click Share.

Choose whether to give Global access or give access only to Specific Users.

Click Add users to choose which users to share the microsite with.

Click Share.
If Visibility is Specific Users and no users are added, access will stay Global.
Build link in bio content and workflows
In the next sections, you will learn how to create and edit your link in bio content and how to integrate Emplifi Link in to your Publisher workflows.
GDPR compliance and data limitations
Your link in bio microsite is GDPR compliant and will display the cookies notice.
As per GDPR requirements, the link-in-bio module cannot access data older than 90 days.
To learn more about historical data availability, see Content Types & Historical Data, Update Frequency in Community.
Link in Bio in Emplifi Learning
https://vimeo.com/778242703/72c3cb5d65?share=copy
For more content, visit the Emplifi Learning site.