Emplifi Link is a Publisher link in bio feature that allows you to create and customize a dedicated link-in-bio microsite.
You can then schedule your link in bio content (photos, reels, links, grids) to align the microsite with your social media campaigns.
With Emplifi Link, you do not have to rely on third party services to get around the Instagram's internal limitation that prevents you from adding clickable links in posts.
You can see how Emplifi Link in Bio works, and built a quick prototype, in our interactive Link in Bio demo.
Prerequisites
You must have Emplifi's Smart or Integrate package to use Emplifi Link.
Create a link in bio page
Emplifi Link in Bio is integrated in the Publisher section. When you first click Link in Bio, the feature's welcome page opens.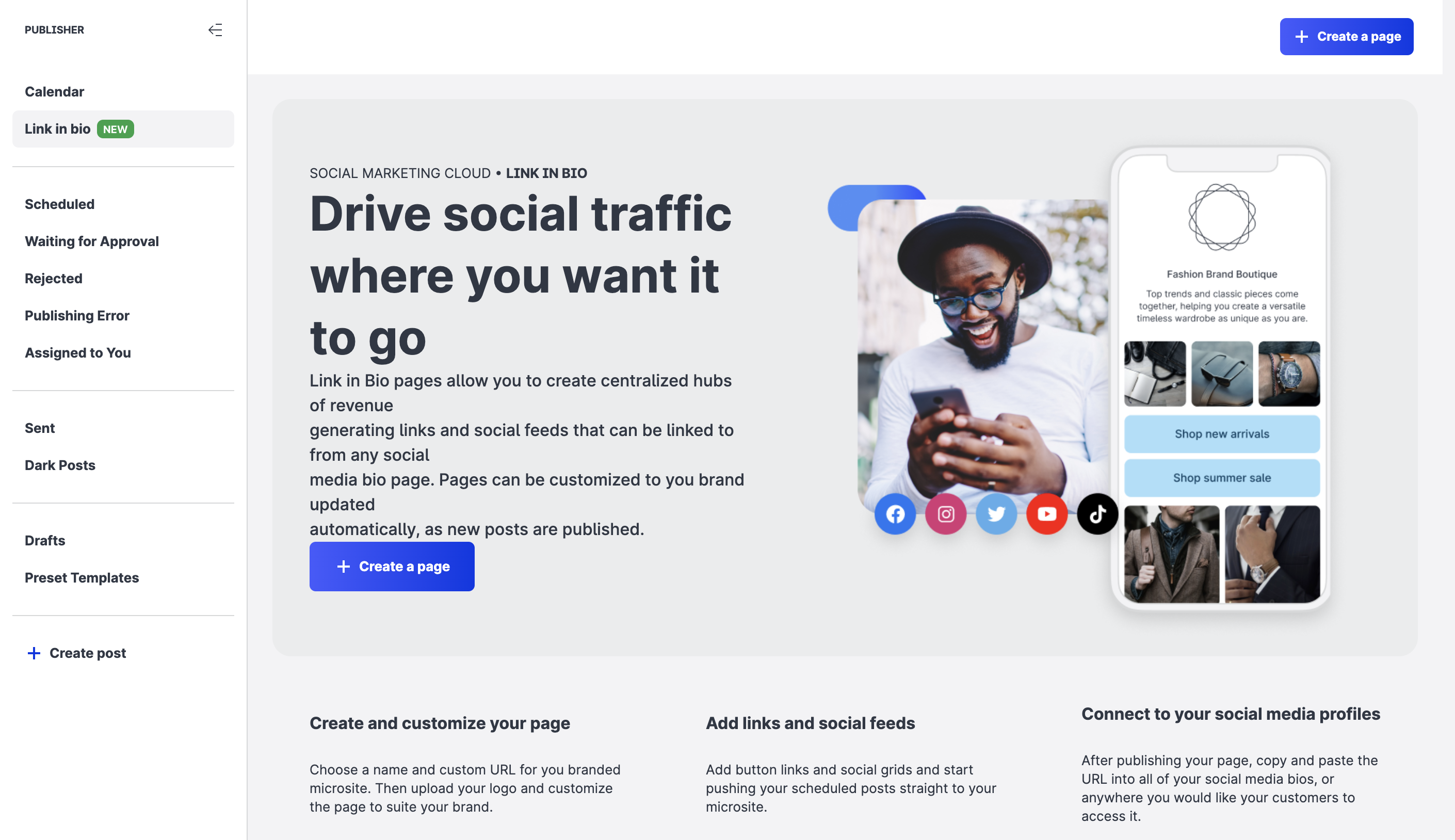 Steps:
Click Create a page.

In the pop-up that opens, define the URL and click Create page.
The end of the URL that you defined (acmelinkinbio in this case) becomes the Page title by default and you can rename it later to something catchier. This does not impact the URL.

Important:

Microsite URLs may only contain letters, numbers, underscores ("_"), and dashes ("-").

The URL cannot be changed later.

Name the page and enter the description of your page, then click Save.

Start building your page (microsite) with either adding a button or a social grid.
Your microsite will go live after you publish your first page element (a button or a social grid).
After your site is published, copy the URL and paste it into your social profile bio.
The URL is always displayed on top of your Emplifi Link workspace.
Build link in bio content and workflows
In the next sections, you will learn how to create and edit your link in bio content and how to integrate Emplifi Link in to your Publisher workflows.
GDPR compliance
Your link in bio microsite is GDPR compliant and will display the cookies notice.