Care
Organize Case Views into Groups
As a Care supervisor, you can now organize custom case views into groups. This allows you to create a clear hierarchy of case views in the left panel, and it helps you and other Care users quickly locate the views that they need, preventing them from wasting time scrolling through multiple views and getting frustrated.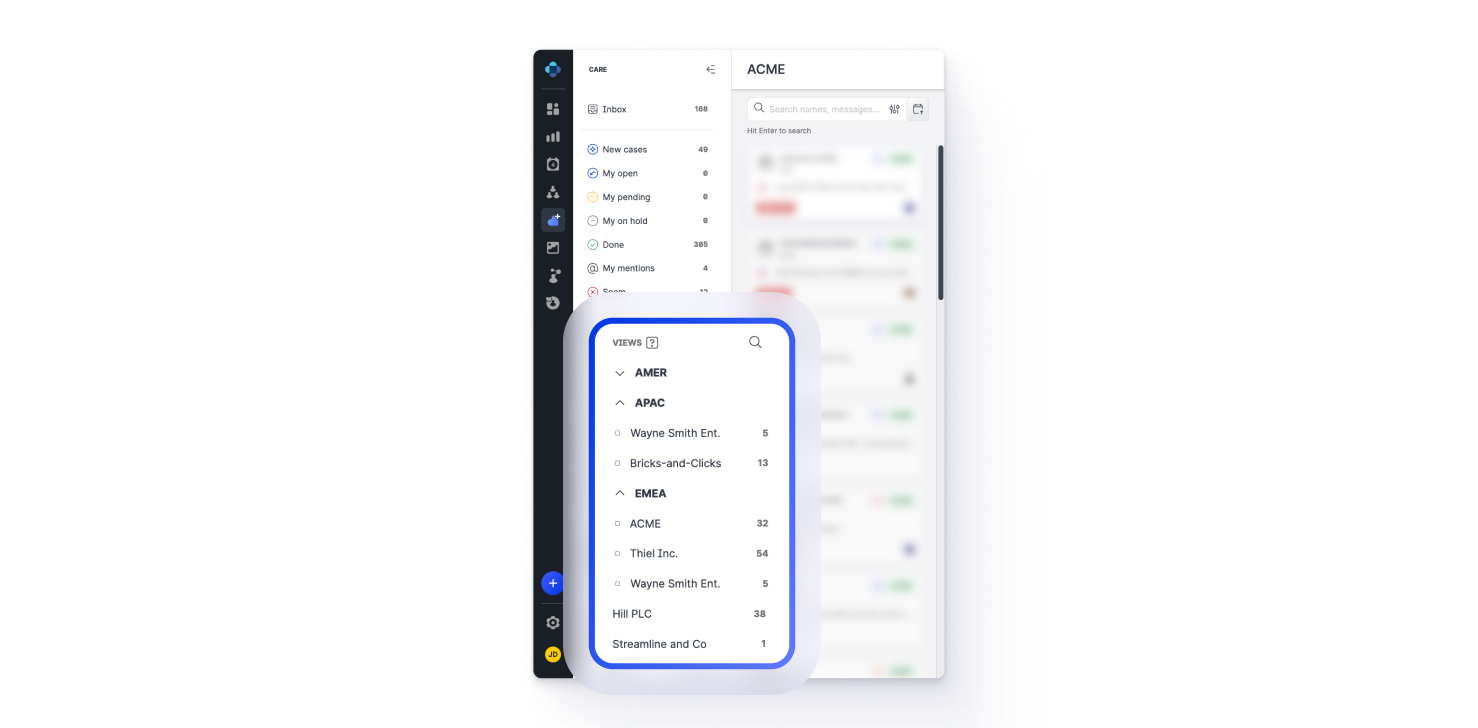 You can organize views into groups by any criteria: groups for specific Care agents, groups related to a specific geographic region, social media platform, or a profile, and so on.
Views do not have to be included in any group. The views that are not assigned to any view group are listed under the view groups.
In addition, you can search through the views by clicking the magnifying glass icon.
Need more information?
Customize Your Care Settings
Apply Temporary Filters to Case Views
When working with a view, Care agents can now apply additional filters to the view to adjust it to their individual needs (for example, when a view lists all open cases from a specific profile and the Care agent needs to see only those with the urgent priority).
This gives Care agents greater flexibility in finding the cases they need within a view to perform a particular task they are working on.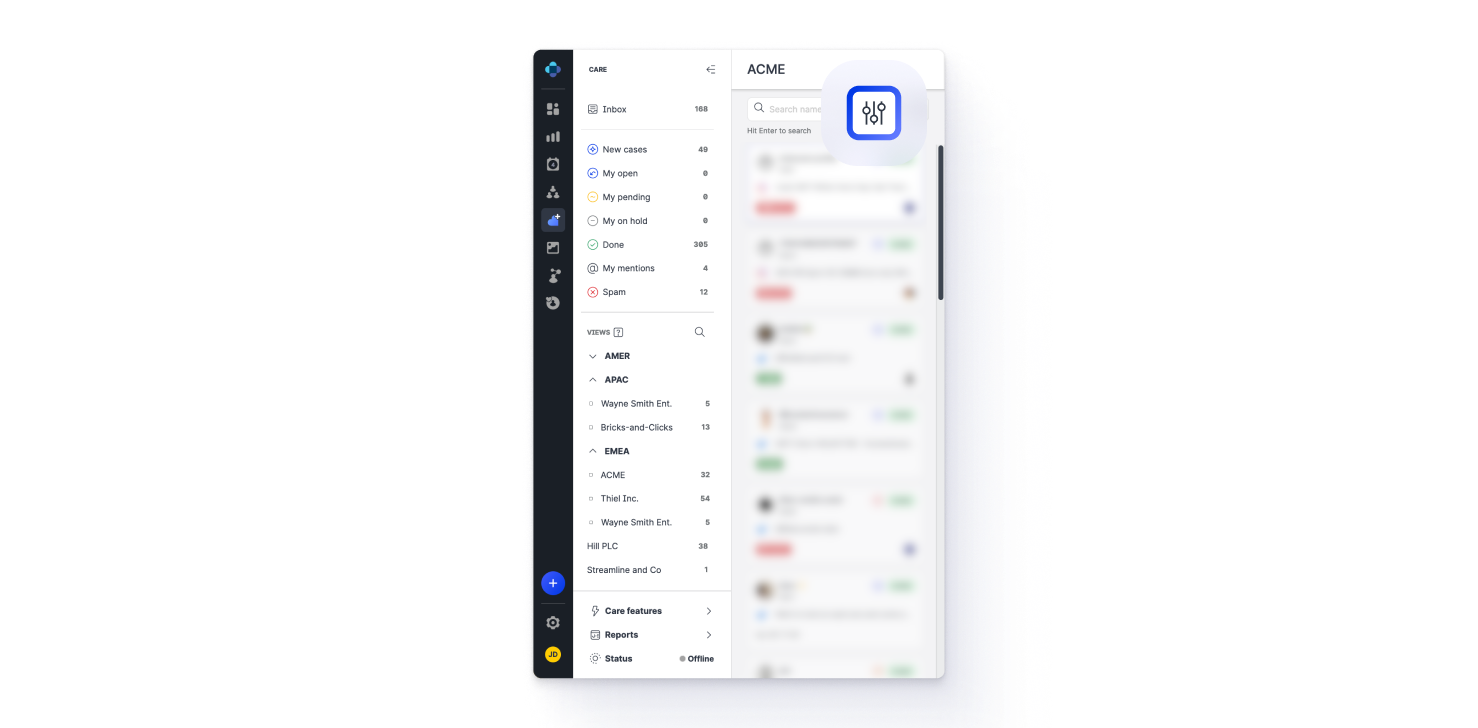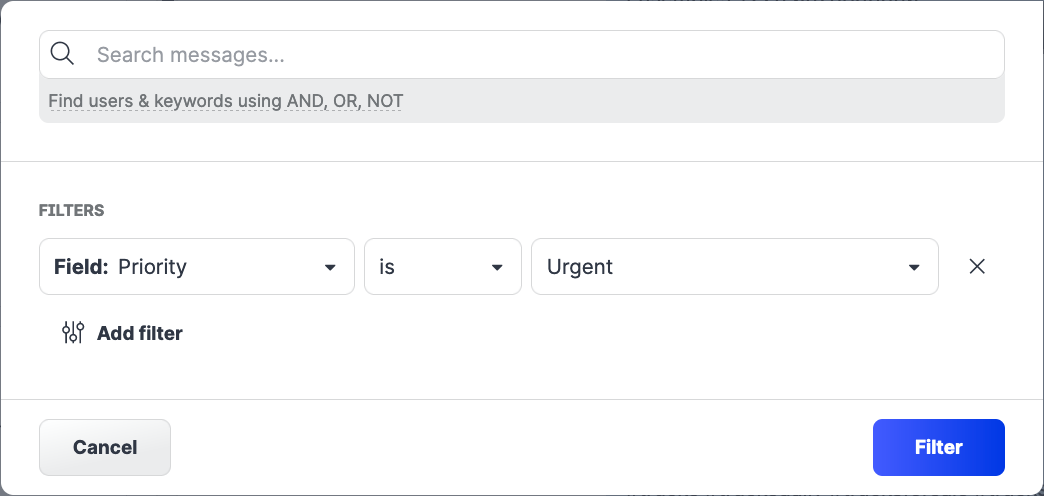 The filters that a Care agent sets up in a view are preserved while they are working in the view. Switching to a different view will clear all the filters.
Need more information?
Customize Your Care Settings
Listening: Use NEAR Operator in Listening Queries
When setting up a listening query, you can now use the NEAR operator to narrow down the query results and make the query more specific.
NEAR allows you to specify a term that must be found within a certain number of words from the keyword in a query condition. If the term is found within the specified proximity, the listening mention is included in the query results. Otherwise, the listening mention is considered irrelevant and is not included in the query results.
For example, the following query condition would include only the listening mentions that have the word cat with either domestic or animal up to three words apart from it.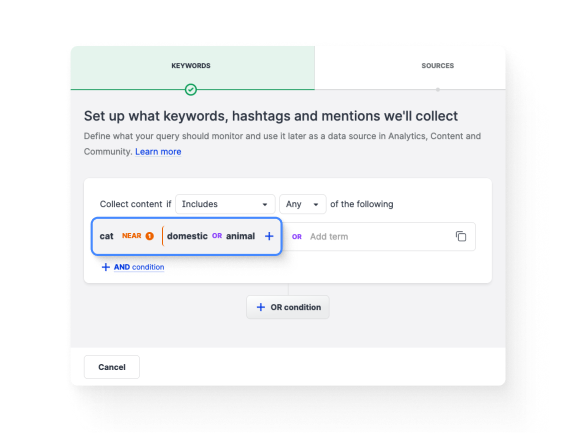 The NEAR operator was initially released in beta. If you were a participant of the beta program and have been using the NEAR operator since then, you can continue using it as usual. Nothing is going to change for your existing setup. No additional action is needed on your side.
Need more information?
Listening - General Guide
UGC: Shopper-submitted Product Tags in Direct Uploader
Shoppers who submit content to your UGC (user-generated content) albums through the Direct Uploader can now search, select, and tag the assets they upload with the products featured in the content.
By allowing shoppers to tag content, you increase their engagement and also save the time of your Curators.
This feature is an additional option you can add to your account. It is not enabled by default. Contact your customer success manager to learn more.
Need more information?
​Shopper-submitted Product Tags for Content Received through Direct Uploader
Tag a Product in a Piece of Content in an Album
Emplifi UGC Direct Uploader
Bot
Improved Priority for Agent Queuing
We have improved the speed with which a chat is queued to an agent. The Skill Priority setting for an Agent Group is now weighted heavier than wait time when determining where to put a chat in the Agent queue. This will get the chat to the correct agent earlier.
Added Search Capability for Bots
On the list of Bots page, we have added a Search bar. This is helpful when you have multiple bots. Rather than searching page by page for a bot, now you can search for a specific bot by entering the bot name in the Search bar. After searching, click X to return to the complete list of bots.
Knowledge
Recurring Tasks in Task Report
We have added fields in the Task Report to identify if a recurring task has been created and to what interval it has been set.
Response Editor Upgrade
We have updated the Response Editor with new, easy-to-use features, increased customization, and add-on capabilities.
Hyperlinks in existing responses may lose formatting when edited with the new Response Editor due to how the editor converts HTML. The formatting can be reapplied, but must be done manually.

Existing responses authored with left-to-right and right-to-left languages in the same response may lose formatting if edited in the new Response Editor. Best practice is to never use more than one language in a single response.

Existing responses with lists using <ul> and <li> in the HTML may lose formatting if edited in the new Response Editor. The formatting can be reapplied, but must be done manually.

Standard user interfaces will not accurately display tables that have a specific width.
Locale and TouchPoint Included in Topic Edit History
When you review the Topic Edit history, you will now see the Locale and TouchPoint to show where the changes were made.
Optimistic Locking Improvements - Segment Topic Saving to Avoid Conflicts
We have made improvements when multiple users are working on the same topic. If two users are in the same topic, they can save different response edits without affecting the other person's efforts when the topic is saved. This improvement reduces how often these errors occur, by saving the Topic more often, and making sure to save portions of the Topic more independently (e.g. Examples, Responses, Categories, and Attributes).
Save Button on Topic View
We have added a Save button on the Topic page that saves all the changes made to a topic. When you click the Save button, the changes are saved and you remain on the Topic page.
Example Generator - GPT3
We are leveraging GPT3 features for you to be able to automatically generate examples for a response. This will save you time from coming up with examples as well as making topic searching and matching more relevant. Use this feature when you create a topic. Simply, click the Generate button (Magic Wand icon) next to the Add Example button. If an example has already been added, 10 new examples will be generated from it. If no examples exist, a pop-up window will display for you to type an example. The examples will be generated based on your entry. From the 10 examples that are generated, you can choose up to 3 to be added to the list. If none of the examples are good for your topic, you can generate another 10 examples.
Best Practice: Adding 10 examples does not necessarily mean better matching. We suggest that you only use 3 to 5 examples to start, then continue leveraging the Learner to fully understand how your user will ask questions, and make adjustments accordingly.
Please note the following:
Do NOT use any personally identifiable information (PII) with this feature.

This feature does not replace human decision-making. This is a tool to aid with your daily tasks.

This feature currently supports only the English language. It is only available for English locales.
Username Added to Review Feature
We have added the username to the Review feature. After a response is reviewed, the username will display to show who reviewed the response most recently. A new "Reviewed By" column is added to the Topic Listing report that shows the username of the person who last reviewed the response.
Changed Behavior of Response Status
The Response Status behavior is changed when you create a topic and author multiple responses, but do not publish all the authored responses. Now the unpublished responses remain in the "Created" status. For example, a response will remain in the created state until it is published. It does not inherit the topic's status.
Analytics Tags in Learner
We have added a new column named Analytics Tag in the report table. This column shows any analytics tags associated with the Learner results. The column is hidden by default. You can "turn on" the column using the Table Column Selection feature. When you click the Learner results, a window will open to show the analytics tags under TouchPoint.
Recurrence Setting Overhaul for Tasks
The recurrence interval selection is changed. You may now choose the number of intervals that a task recurs. When you enter a number and select an interval such as days, weeks, months, or years, the task will repeat. For example, when you enter "6" and select "months," the task will recur every 6 months. If you do not enter the recurrence settings, the task does not repeat.