Within the Publish Center, you can set up and manage from a variety of Emplifi UGC displays that include website displays, Emplifi UGC-hosted landing pages, email displays, Facebook tabs, Shoppable Instagram, and live displays. Email display is a premium feature.
With Emplifi UGC email displays, marketers can feature the most recent or product-specific customer UGC in their emails. This adds excitement and relevance to their email marketing.
Emplifi UGC is email service provider agnostic (ESP) and works with all ESPs, including:
Bronto,

Listrak,

Mailchimp,

Responsys,

Salesforce Marketing Cloud,

Shopify,

Springbot, and more.
To publish an email display, follow these steps:
Open your Publish Center.

Click on "Publish a New Email Display" within the "Email" channel.

Choose your email type:

Standard Email Displays
Enrich performance of your newsletters, welcome emails, Shoppable Instagram emails, and more.

Product-Triggered Email Displays
Automatically feature relevant product-specific UGC in triggered emails for cart/browse abandonment, post-purchase reviews, and back-in-stock products.
If you choose this, you'll need to add your ESP merge tags towards the end to enable system integrations for your triggered email display. Go to our developer documentation to learn more about triggered email.

Give a name to your display, select an album to display, and choose your filter option.
If you don't see your album when connecting it to your display, it might be because it doesn't have any approved content in it!

Customize your display by defining the following:

Layout Type

Header Customization (Only for Standard Email Display)

Layout Customization

ESP (Email Service Provider) Merge Tags
Go to Publish an Email Display Using the Listrak Composer to learn more.

Click-Through Link

Shopping Cart (only for Product Triggered)
Ideal for all cart abandonment emails.

Product Links
Ideal for Back in Stock, Browse Recovery emails.

Other URL
Ideal for post-purchase and review emails.

Fallback Content
We recommend using your Shoppable Instagram album or an email specific album​.

Click "Save".

Click "Generate Embed Code".

Copy and paste the generated embed code into your ESP.
Unlike the other widget displays, you MUST regenerate and paste the embed code again whenever any customization changes are made to the email display.
For Bronto, the campaign_ID field is not supported and is not a required field.
If you're unsure of where to paste the embed code, go to Add the Email Embed Code in My ESP to learn more.
Go to Email Displays Use Cases and Best Practices to learn more.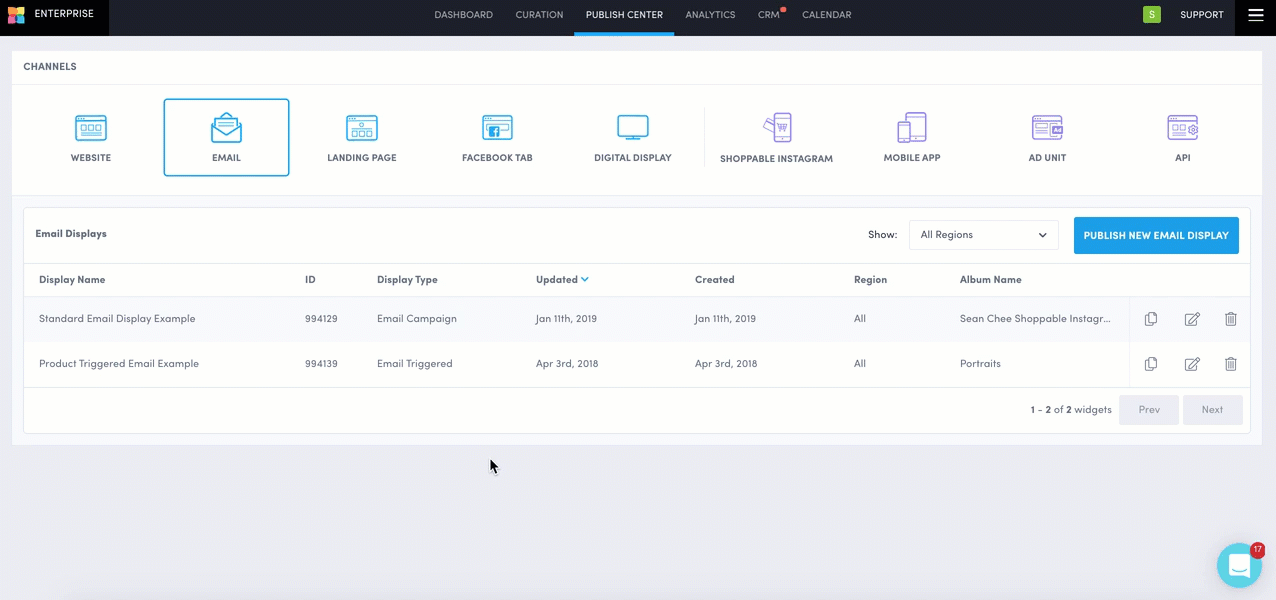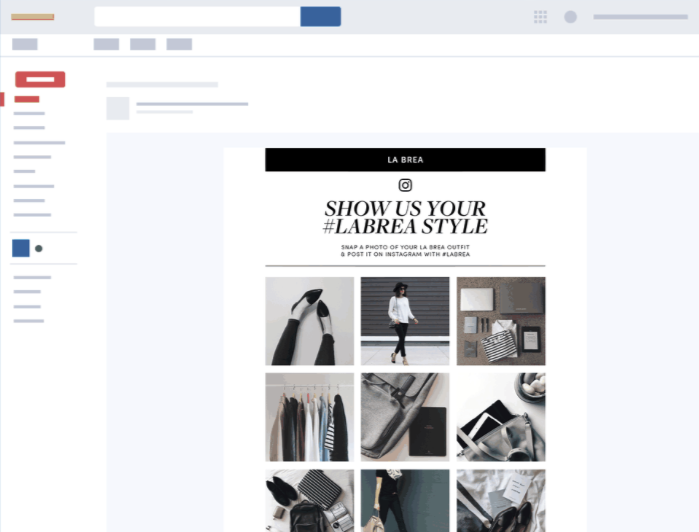 Do you have feedback or more questions? Contact us directly at support@pixleeteam.com.