Set up your first reports
Reporting is a critical component of every social media marketer's job. You can generate highly visual PDF reports or ready-to-share PowerPoint presentations with just one click in Emplifi Suite.
Start off by going to Analytics and selecting the profile you would like to create a report for. You can then select the section you would like to produce the report for (Overview, Fans, Content, Engagement, Socially Devoted, Multi Comparison, Facebook Insights) or, alternatively, create a full PowerPoint export for the whole profile. Start off by clicking on Export at the top of the page.

You will then be prompted to choose the type of report you would like to generate and select whether you would like to receive this report on a regular basis or send it by email.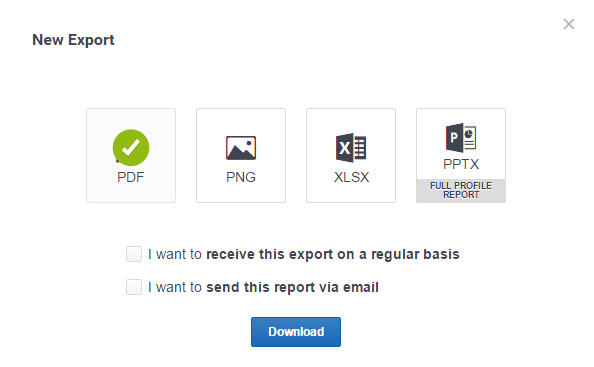 When you choose the first option, allowing you to get automated reports, you can also select the frequency of your reports (weekly, monthly or quarterly). You can either download the report immediately or also send it to your email address (please see below).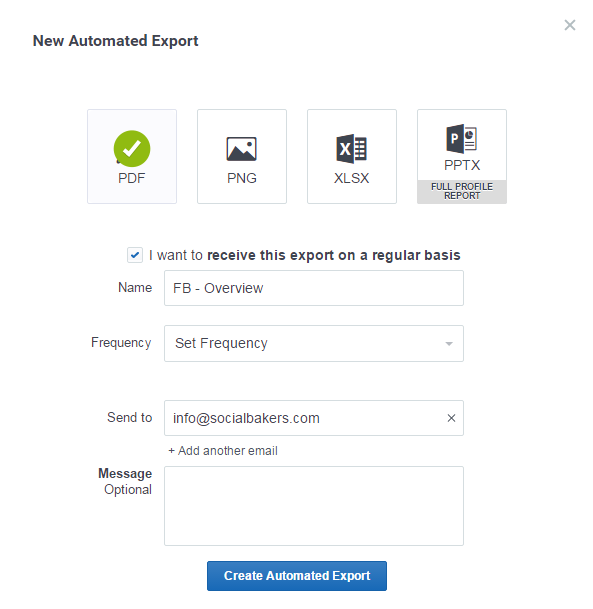 When you select the second option (sending you reports by email), you can add one or multiple email accounts at once.