Permission and Message Best Practices
Permission Best Practices
To start using the user generated content that you've collected in your marketing campaigns, emails, and ads, you'll first need to get access from the users.
Here are some recommended best practices for sending out permission requests:
Thank the user for submitting their content

Highlight exactly where you plan on featuring their content

Include a link to your own Terms and Conditions with URL shorteners

Ask the user to explicitly respond with their consent by mentioning your brand handle and specific hashtag - @<brand_handle> and #yesbrand

Responses to Facebook and Twitter permission requests will only need the hashtag keyword to be auto-permissioned

Give the submitter a couple days to respond - if they haven't, click the content's "Add Comment" button to accordingly send a follow up response

Create at least 5 different permission messages within your Templates. Here are some sample templates:

Hey there, we love your photo and would like to feature it in our marketing channels (email, social, website). If you approve, please respond with #yesbrand and @<brand_handle>. View full terms here: tinyurl link. Share more photos here: tinyurl link. Thank you!

These photos are amazing! We'd love to use them on our website! Respond back with a quick #yesbrand and @<brand_handle> if you're okay with it!

This looks like such a relaxing trip! Mind if we use this image? Reply #yesbrand and @<brand_handle> in the comments if that's okay. Thank you! Full terms and conditions here: bitly link.

Thank you for sharing, we love this photo! Please reply with #yesbrand and @<brand_handle> to be featured on our website, newsletter, social & partner websites. (See full terms here: google link)

We love this photo and want to possibly feature it on our site or elsewhere with proper credit! If that's OK, reply with #yesbrand and @<brand_handle>.

Love your pic! We'd like to use it in the brand gallery & possibly _________, website and emails. Confirm that you consent & have read & accept our terms (bitly link) by replying #okbrand and @<brand_handle>.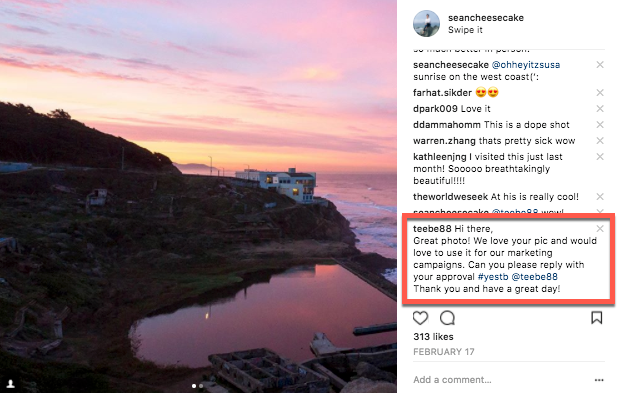 When requesting permission for Instagram mentioned content, you can use the "Mentions" filter in the inbox/approved section + the multi-select feature.
Message Best Practices
The more you engage with individual customers, the stronger impression you can leave on them. Humanize your brand by staying active and engaged on social media. This way your customers are more likely to reciprocate.
Here are some recommended best practices when messaging your customers:
Regularly interact with your customers to leave a good impression

Maintain a friendly and conversational tone to avoid sounding robotic

Start a conversation - perhaps asking your customer an appropriate question for further interaction

Spend the time to click on their profile to personalize your message
Using Syntax to Auto-populate User Handles
To help add personalization and variety to your permission messages, special syntax like @<username> and @<brand_handle> can be added to message templates saved within Emplifi UGC:
@<username> will populate the user handle of the message recipient/content creator on Instagram, Twitter, and Facebook

@<brand_handle> will populate the user handle of the branded account sending the message, and will help Emplifi UGC listen for a direct response to the brand. This syntax is only designed for Instagram and Twitter. It will not function on Facebook.