How to Be Proactive in Your Community Management
Engaging with a social community isn't just about creating compelling content. By keeping close to your fans and followers even after you hit publish, you can build brand loyalty and actually optimize your social media performance.
With Community in Suite, smoothly validate opinions, answer questions, and amplify positive feedback to grow awareness and trust. Let's take a look at how to streamline the community management experience from execution to reporting.
Community Management to Drive Content Performance
Influence the success of your posts by staying involved in the conversation. Community is a useful channel to do just that. You can configure your unique view on all your community communication with highly customizable feeds. Adding your voice to the mix will increase engagement and keep your posts around for longer.
To add a new feed, click +Add Feed and choose from the following: Incoming, Assigned to You, Direct Messages, Sent, Dark Posts, Promoted Posts, For Approval, and Publishing Problems. You can order your feeds with a quick drag and drop to make sure your community view is set up to help you reach your unique goals.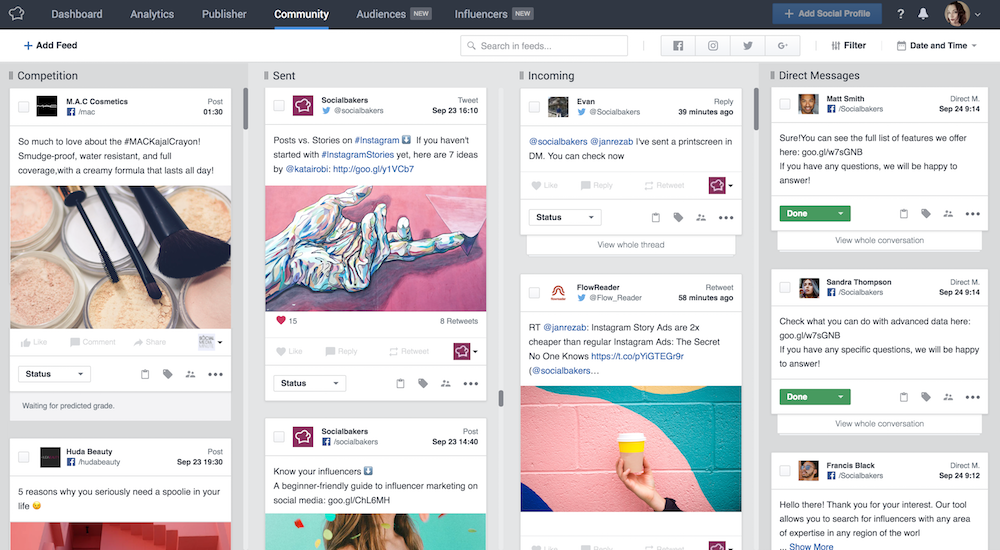 Showing Your Audience You Care – Quickly
Social care is the new marketing. Show that you do care with timely and personalized communication. The Community experience is set up for collaboration, so your community teams can stay on top of all incoming communication. To ensure they can do their best work, you can set defined roles, tag users for assignments, and make use of real-time email and in-product notifications.
Internal cues and notifications are key to streamline team collaboration. Assignments ensure that no two managers are working on the same message at once. To further communicate the status of an assignment, users can mark posts as done, in progress, or no action. Posts can be filtered by their status so that you can see how your community is managing its workload.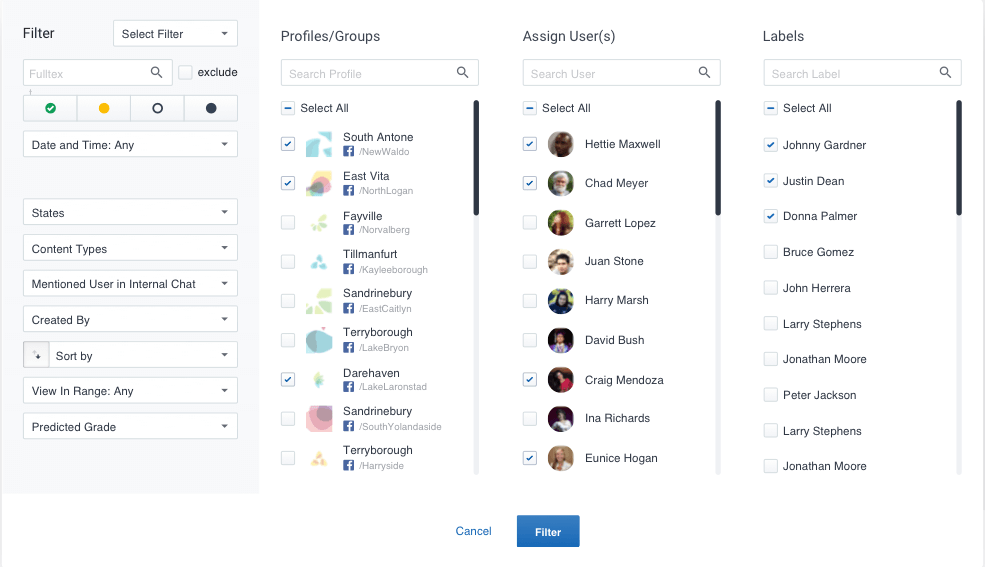 With templated answers, community managers can kickstart the process with verified information and correct links, especially with frequently asked questions. From there, authentic personal touches can go a long way to help build trust and create better relationships online – in less time.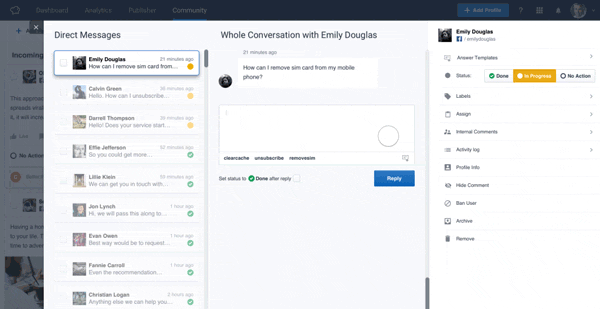 Comprehensive Community Reporting and Business Hours
Community Reporting allows for a transparent view of how your community management teams are working. In the Community Reporting dashboard, you can track statistics across your social profiles with labels for a comprehensive view of your approach. Analyze the performance and speed of your Community care teams and monitor the topics your fans keep bringing up. You can customize your dashboard set up, time range, and data visualizations depending on your needs to make sure the dashboard view actually suits your needs.
By setting specific business hours and holidays for your profiles, you can be more accurate in your community reporting. The response times for your team will be measured and reported on only for these specific time ranges. This will give you a more accurate insight into your ability to respond to your fans. For those teams that are running 24/7, there's no need to set business hours. Learn how to set your business hours in just a few steps (see Measure the Response Time of Your Community Management Team).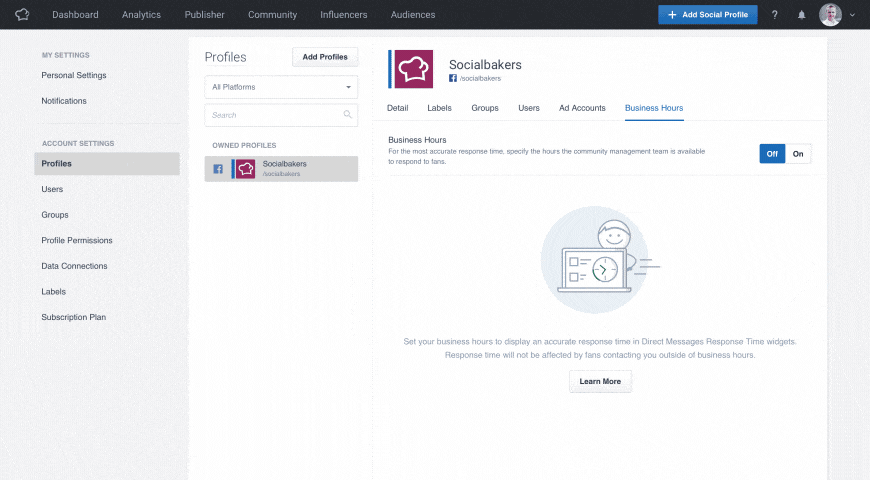 Community Management as a Positive Experience
With a proactive approach to community management, a thoughtful response can turn a good post in a great relationship. Community management in Suite allows brands to easily engage in transparent dialogue and improve the social experience for everyone in the community, from the newest followers to the most loyal fans.