Use Instagram Carousel Collection
When making a single Instagram post, you can have either 1 or up to 10 multiple pieces of content. A post with multiple pieces of content is called an Instagram carousel!
Emplifi UGC automatically collects all content in an Instagram carousel post and makes it available to use seamlessly with all of your other content. If a piece of content is from a carousel post, it will be indicated with a carousel icon: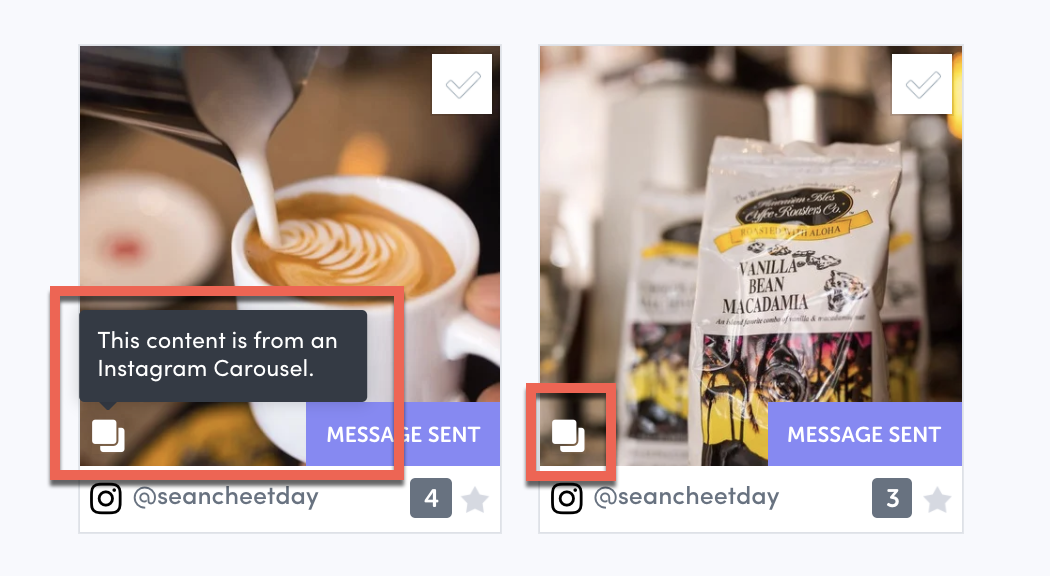 Upon clicking into a piece of content from an Instagram Carousel, the lightbox will include 2 sections associated to this feature:
Carousel Messaging & Permission: Actions taken here, such as requesting permission, will apply to all content in the carousel. There's also a thumbnail carousel of all sibling photos for the piece of carousel content you are viewing. This content is clickable and allows you to quickly navigate to the other content in the carousel.

Content: Actions taken here, such as product tagging, will apply to only that piece of content.
If content in a carousel is deleted, denied, or exists in another album, it will not be clickable and will be explained via a tooltip.

To learn more, see the Instagram Carousel Collection FAQ.
Do you have feedback or more questions? Contact us directly at support@pixleeteam.com.