Reviews in Emplifi UGC allows you to present text-based product reviews and ratings alongside quality curated UGC in a seamless, unified gallery. A/B testing with development partners has shown that combining UGC with text reviews increases shopper engagement and conversion. Even better, Reviews can be enabled without any code changes on your site.
Enabling reviews lets you get more out of UGC and your existing reviews platform. You'll be able to take positive reviews and showcase them in Pixlee galleries to inspire even more customers to make a purchase.
Here are some reasons to get started:
Give customers a better shopping experience by helping them make more strategic purchasing decisions.

Increase your ROI on UGC and reviews by combining proven content and increasing shopper engagement.

Showcase ratings and reviews on multiple pages by pairing with engaging visual UGC.

Easily integrate with your already existing rating and reviews platform.

Follow these directions to have them set up and enabled:
In the top navigation bar, under the "Curation" dropdown, click on "Reviews"

Click on "Import Reviews" button, select your review platform, click "Submit", and in a few minutes your reviews will be imported into the Pixlee platform.

Yotpo
To find the API key, please follow these steps:

Log into your Yotpo account.

Click the dropdown in the top right corner and select "Account Settings".

Click on the "Store" tab.

Your API Key will be listed under the API credential section.

TurnTo
To find the Site Key and Auth Key, please follow these steps:

Log into your TurnTo account.

Click into your account settings page.

BazaarVoice, PowerReviews, Feefo, etc
Please contact support@pixleeteam.com and we will work with your developers to set up a channel that allows us to ingest your reviews.

If it's a one time ingestion, it can be done via a CSV, XML, JSON, etc formatting.

With BazaarVoice, you will have to export and send us the "Standard Content Feed" through the BazaarVoice SFTP. Here are the BazaarVoice instructions on how to generate that. We'd recommending recommend reaching out to your BazaarVoice rep for assistance if you run into any issues.

When sharing your CSV data feed for reviews, please provide the following fields:

Date Review was Posted

Review Title

Review Body

Review/Rating

Reviewer Name

Review Email/Social Handle

Product SKU

Product URL

Votes Up (Optional)

Votes Down (Optional)

Once successfully imported, you can favorite the reviews you would like to display by clicking the heart icon. A red heart icon indicates the review has been selected for display.

Within your products dashboard, there will be a column for you to view the ratio of how many reviews you've favorited compared to the total number of reviews available.

Once your reviews have been favorited, go into the display edits for either a new or existing website display or Emplifi UGC-hosted landing page.

From the "Reviews" dropdown, select "Show Favorite Reviews" - if you haven't updated your lightbox version, you'll be prompted to preview the functionality before saving and moving forward.

Further customize reviews in the Design Editor (font size, star size, background image, frequency, review title).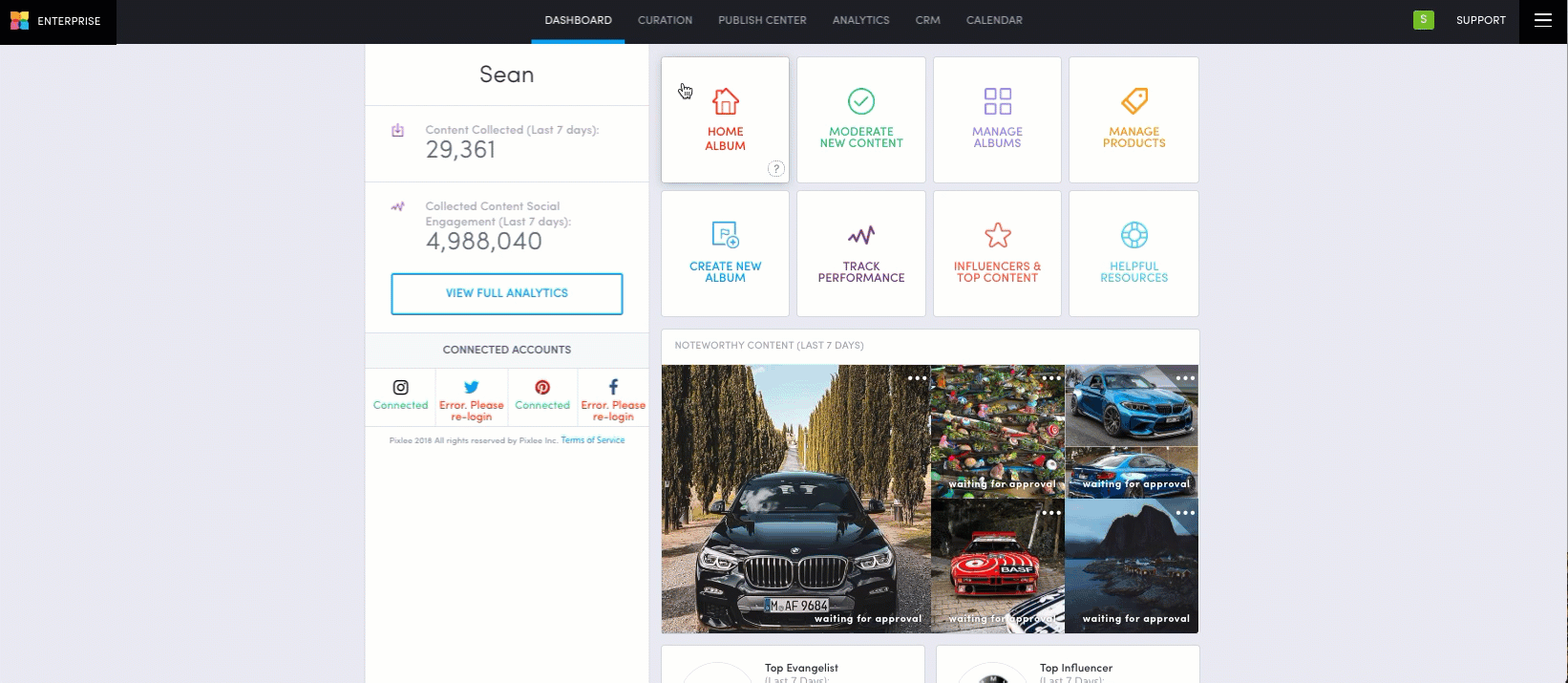 If you're looking to turn on reviews in your widget's lightbox view, please contact your CSM or support@pixleeteam.com.
Frequently Asked Questions
Q: How often do my imported reviews get refreshed?
A: We refresh the imported reviews on a daily basis.
For TurnTo reviews, we take the ones with associated products assigned to at least one piece of content. However all Yotpo reviews will be imported.

Q: Will Emplifi UGC modify my existing reviews data or add new reviews?
A: No, we will not modify or add any new data without your permission. We will only use your API credentials to read your existing data, so that we can display it in Emplifi UGC widgets.

Q: Will this mean that I will have to approve/deny my reviews twice?
A: No, we will only import the reviews that have already been approved/published in your platform/database. So you can keep using your existing system for approving and denying reviews and Emplifi UGC will simply keep in sync.
Do you have feedback or more questions? Contact us directly at support@pixleeteam.com.