Link Tracking Campaign FAQ
What is P4C Link Tracking?
Link tracking provides users with the ability to add ROI tracking & measurement component to their creator campaigns run via Emplifi UGC.
How does Link Tracking Work in Emplifi UGC?
When creating a campaign in Emplifi UGC, you will now have an option to turn your campaign into a Link Tracking Campaign. When you select this option, you will be presented with a few more options to fill out before creating your campaign:
Campaign Products- Here you can select up to 5 products from the product catalog that you have synced to Emplifi UGC. Once you assign creators to your link tracking campaign, they will each get a unique tracking link for each product that you select at this step.

Campaign Link Details - Here you can attach a generic destination URL for your campaign (leading to your homepage, promotional page, etc.). Once you assign creators to your link tracking campaign, they will each get a unique tracking link for the destination you entered at this step.

UTM Parameters - Here you can add values for utm_source, utm_medium & utm_campaign if you would like your tracking links to also be tracked via Google Analytics. Any tracking link generated will have these UTM parameters and values appended to them.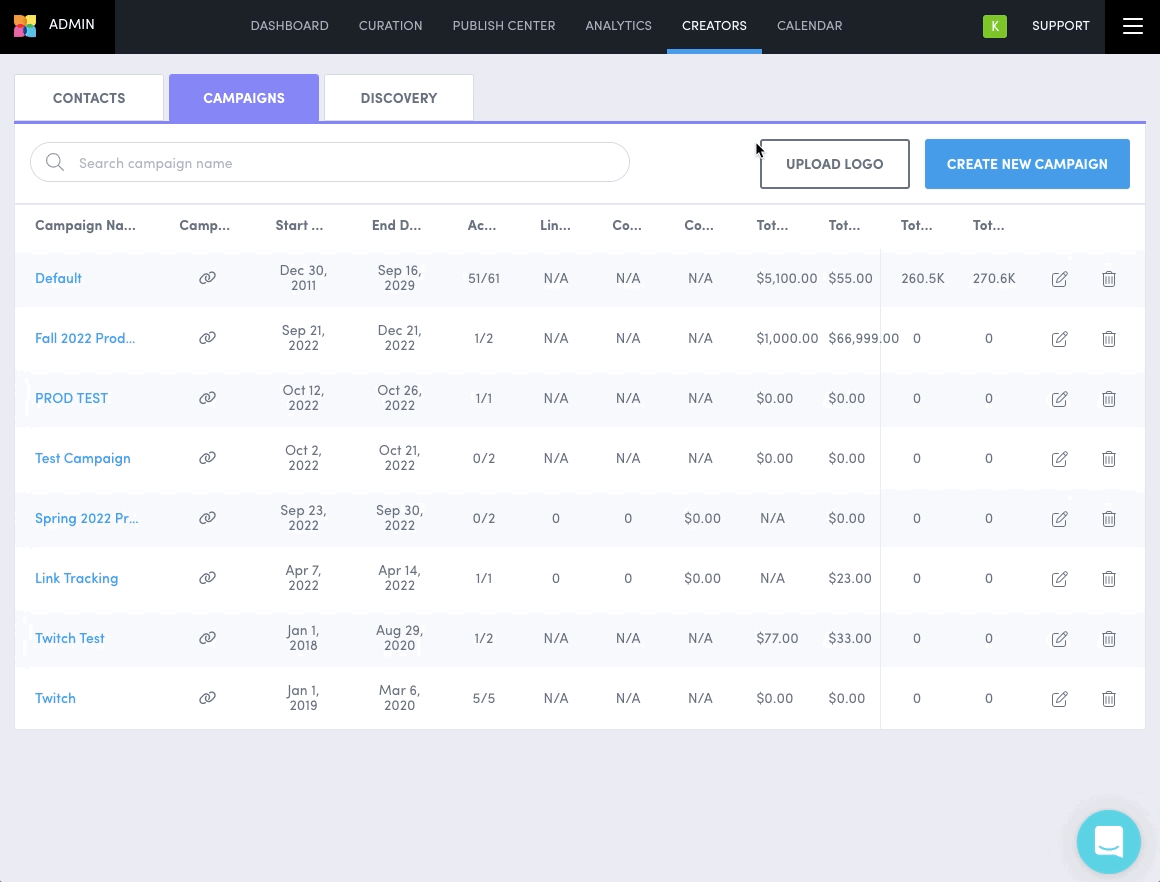 What do these "unique tracking links" actually track?
Each tracking link given to your creators will track link clicks, conversions & conversion $
You will be able to see this information as part of your campaign analytics, including each individual creator's analytics so you can view exactly how each creator/link is performing.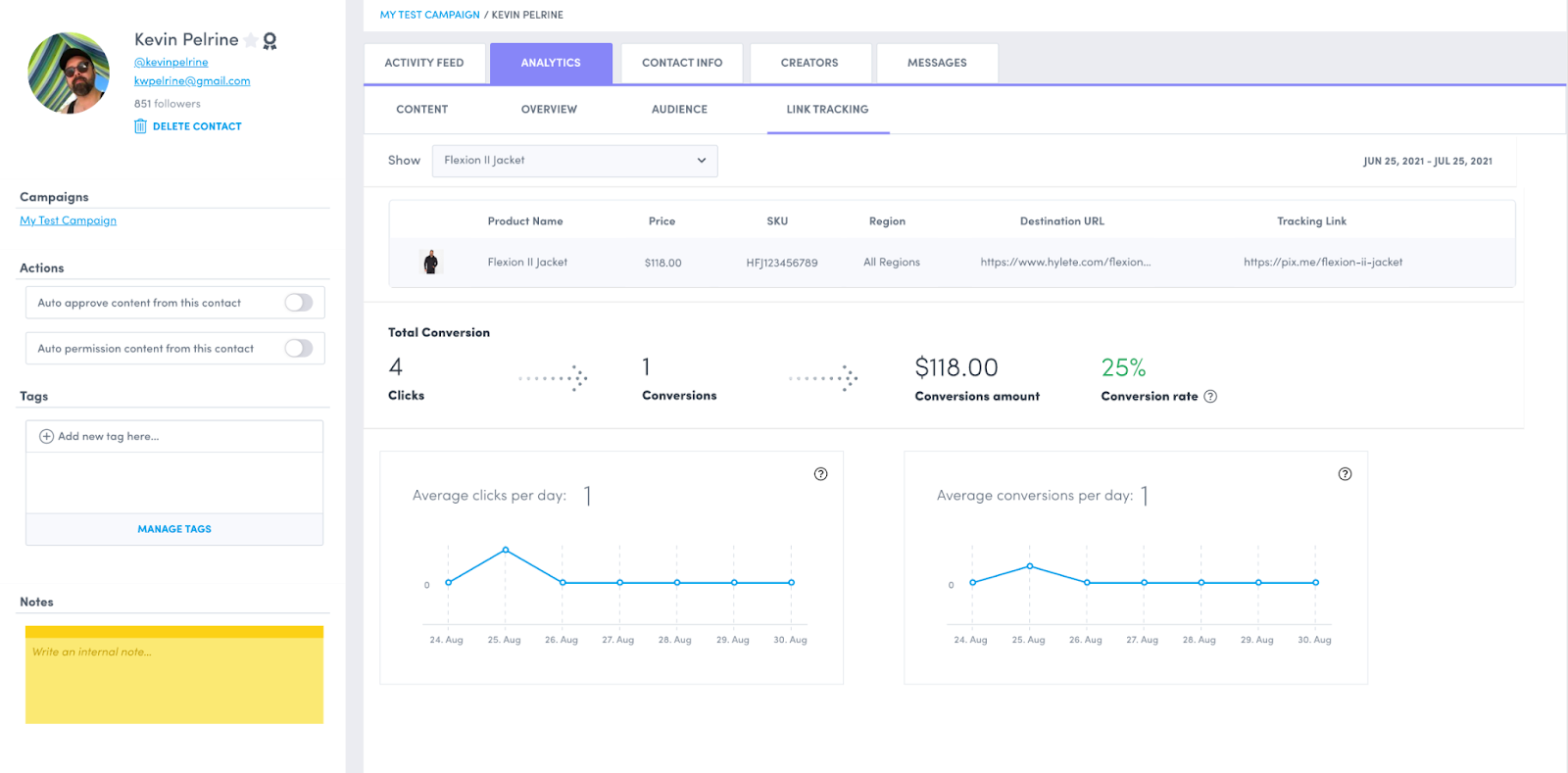 Do my Creators need to have a Creator portal accounts in order to be added to link tracking campaigns?
Any creator in your contacts list can be added to link tracking campaigns and have links generated for them, however as with all Creator portal features, creators that are connected to the Creator portal will have an easier time accessing and using this feature, and reduces the amount of work you will have to manage running your creator campaigns.
For a refresher on the Creator portal, go to our Creator Portal FAQ or contact your customer success manager!
How do I share links with my creators?
For any of your creators that have authenticated with the Creator portal via your branded http://pixlee.me link, once they are invited to a link tracking campaign and accept to participate in your campaign, they will be able to access their links from the Links tab when viewing the campaign.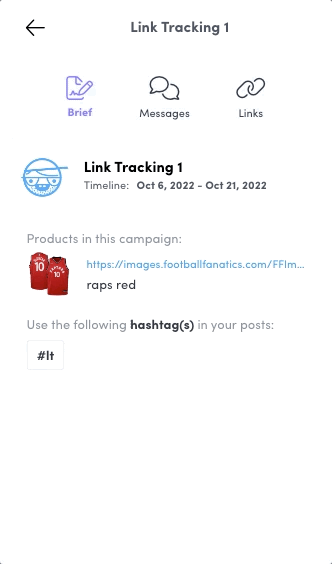 For creators who have not authenticated via http://pixlee.me, you can copy their links directly from their campaign profile in Emplifi UGC and share them with via your existing communication channels

Do I need to install any extra tracking pixels for any of these features to work?
If you've already installed Emplifi UGC tracking pixels and galleries or are using one of our eCommerce integrations, you're all set, these new tracking links will work automatically!
If you haven't installed the Emplifi UGC tracking pixels yet and are and are not using one of our ecommerce plugins, you will need to set that up before running a link tracking campaign. Please refer to our developer documentation or reach out to your CSM if you need help getting setup!
Also, please note that in order for tracking to work, the destination page that your links are driving traffic to must have a tracking pixel or an Emplifi UGC gallery present.
Can this replace my affiliate program?
This tool was designed to handle link tracking for creator campaigns with a few hundred creators, and should not, at this time, be considered a replacement for any affiliate marketing tools you currently work with.
Do you handle commission tracking and payment?
Not at this time. However, you will be able to see how much revenue a creator drives via their links and can use the creator activity feed to log any payments made to them outside of Emplifi UGC.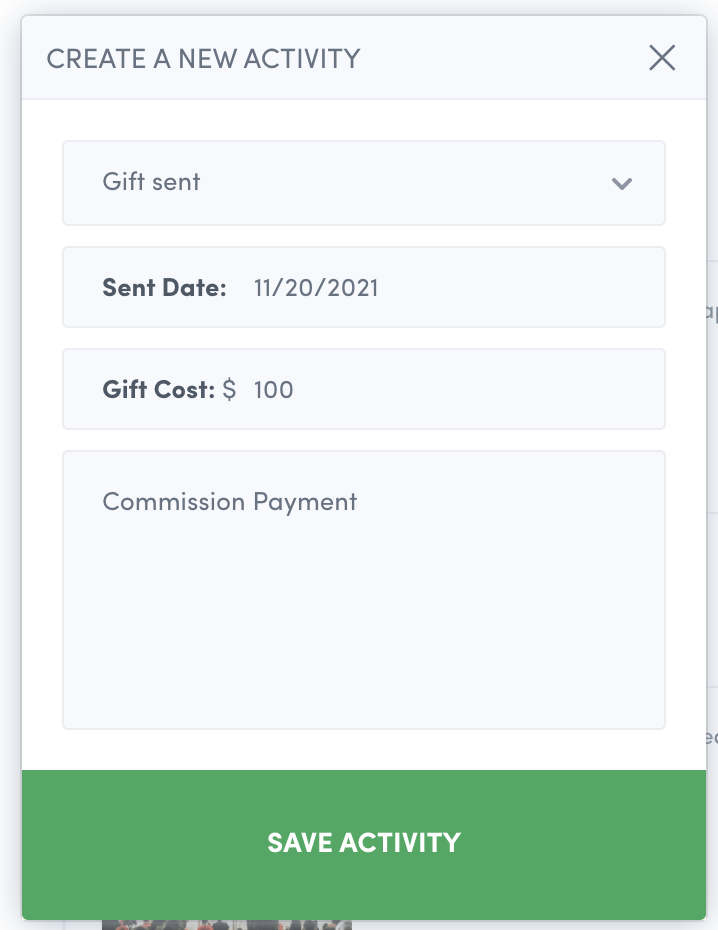 Any $ amounts entered here will automatically be applied to the Cost of your creator & campaign and will be reflected in the ROI calculation for your campaign.
Why can't I edit the settings of my link tracking campaign?
Link tracking campaign parameters (products, campaign link details & UTM parameters) can be edited up until one creator has been added to the campaign.
Once at least one creator has been added to a link tracking campaign, the link tracking parameters (products, campaign link details & UTM parameters) can no longer be edited.
How often do the link tracking stats update?
All link tracking stats are updated every 24 hours.
Why can't I turn on link tracking?
This functionality is an add-on, if you're interested in turning it on please reach out to your customer success manager for more information!
Do you have feedback or more questions? Contact us directly at support@pixleeteam.com.