Instagram Hashtag Limitation FAQ
Why can I no longer collect more than 30 hashtags in my account?
Instagram recently made changes to their API, which affects the type of information that 3rd parties like Emplifi UGC can receive. As of June 10, 2020, you can collect from a maximum of 30 unique hashtags on behalf of an Instagram Business Account within a rolling, 7 day period. Once you collect from a hashtag, it will count against this limit for 7 days. If you collect the same hashtag in multiple albums, this will only count as one hashtag against the limit.
If you are using the Instagram API for hashtag collection of some sort through other 3rd party vendors, this may also affect how many available unique hashtags you can use.
I have reached my hashtag limit (or will very soon!), what should I do?
Remove any unused or underused hashtags across your albums. Note that, as mentioned above, these removed hashtags will continue to count against your limit for 7 days after removal from Emplifi UGC. Once removed too, you will not be able to retroactively collect content with those hashtags.
We've included a downloadable CSV in each album's Hashtag collection tab for you to see all hashtags in use.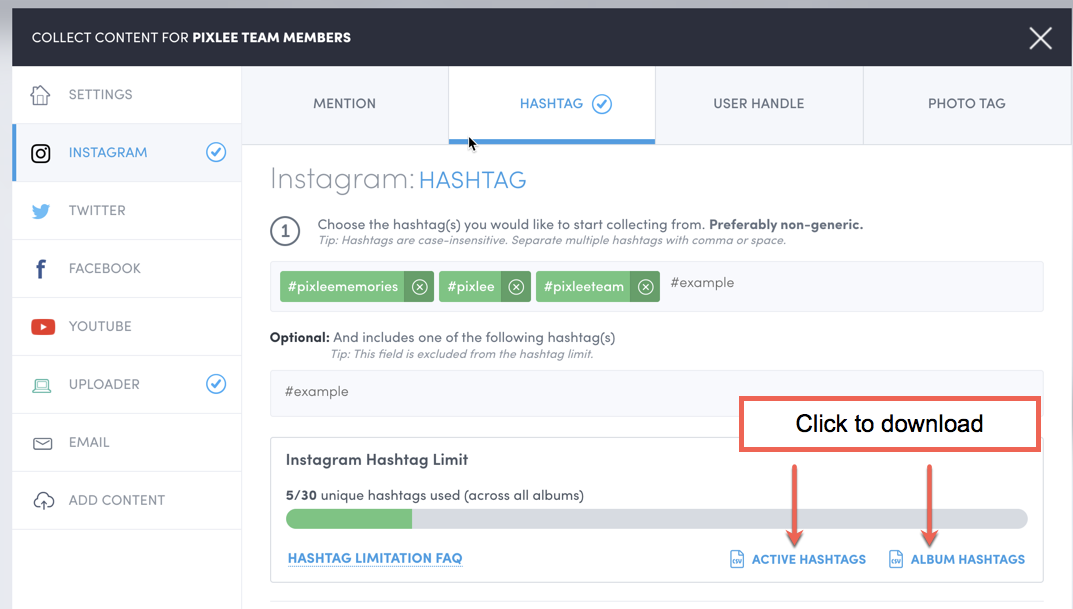 If your subscription allows for multiple social accounts, log in with additional Instagram Business accounts. The 30 hashtag limit is per Instagram account logged into Emplifi UGC, so if you have 2 accounts logged in you'll have 60 Hashtags, 3 accounts you'll have 90, and so on. If your subscription does not include multiple social accounts, please contact your customer success manager or support@pixleeteam.com

Ensure your account Instagram Mentions and Tag collections are set up and collecting. There are no limitations on the content collected through these methods.
I have stopped and/or removed a hashtag from my collection, but my active hashtag count still seems to be the same, is this a bug?
This is not a bug! Due to the 7 day rolling window that Instagram applies to all hashtags that you collect on, your count will only decrease after your account has not collected a particular hashtag(s) for 7 days.
As an example, if your active hashtag count is 30/30 and you remove a hashtag from one of your hashtag collections in Emplifi UGC on August 6th, your active hashtag count will continue to be 30/30 for 7 days. Once the 7 days are up, which would be August 13th in this example, your limit will be 29/30.
When removing hashtags from Emplifi UGC, it's helpful to use the active_album_instagram_hashtags csv that we provide (more info on that below) so that you can see if you are collecting on any given hashtag in multiple places within Emplifi UGC. You need to remove hashtags from every collection you have set up in order for it to stop counting towards your limit.
What information is included in the CSV downloads in the Hashtag collection tab?
We provide two CSV downloads to help clarify the hashtag use in your account:
Active_instagram_hashtag: These are the hashtags that all of your connected Instagram Business accounts have collected on in the last 7 days. Hashtags that have been removed may still show up in this list as it takes 7 days for them to not be counted towards the 30 hashtag per connected Instagram Business account limit.

Active_album_instagram_hashtags: These are the hashtag collections setup across every album in your account. Use this CSV when you are trying to remove a hashtag from your limit to ensure that it's been removed from every collection you have set up.
Was anything else affected by Instagram's API changes on June 10, 2020?
Yes, more info on that here. When content is collected by hashtag only (meaning your connected @userhandle was not mentioned) the following will be true:
Userhandle will display as "Unknown User" until permission is granted by the user

The user's follower count will not be available

The user's avatar image will not be available (unless we've previously collected content from the user)

Users tagged in the photo will not be available

Hashtag collection is no longer retroactive
Do you have feedback or more questions? Contact us directly at support@pixleeteam.com.