2020.06.10 - Updates due to Instagram API Changes
We're happy to announce that we have re-enabled the Instagram hashtag collection feature for all users, and all hashtagged content has been retroactively collected! However, due to changes in Instagram's API, you will notice some differences in the Pixlee platform.
You will start seeing content credited to "Unknown User" throughout the Pixlee platform, this means that the content has been collected through Instagram hashtag. Until the content has been mentioned or tagged with your brand, the following information would not be collected with the hashtagged content:
User handle

# of followers

Any tagged users

Location (no longer available in any circumstances)

User avatar image will not be available (unless if we've previously collected content from the user)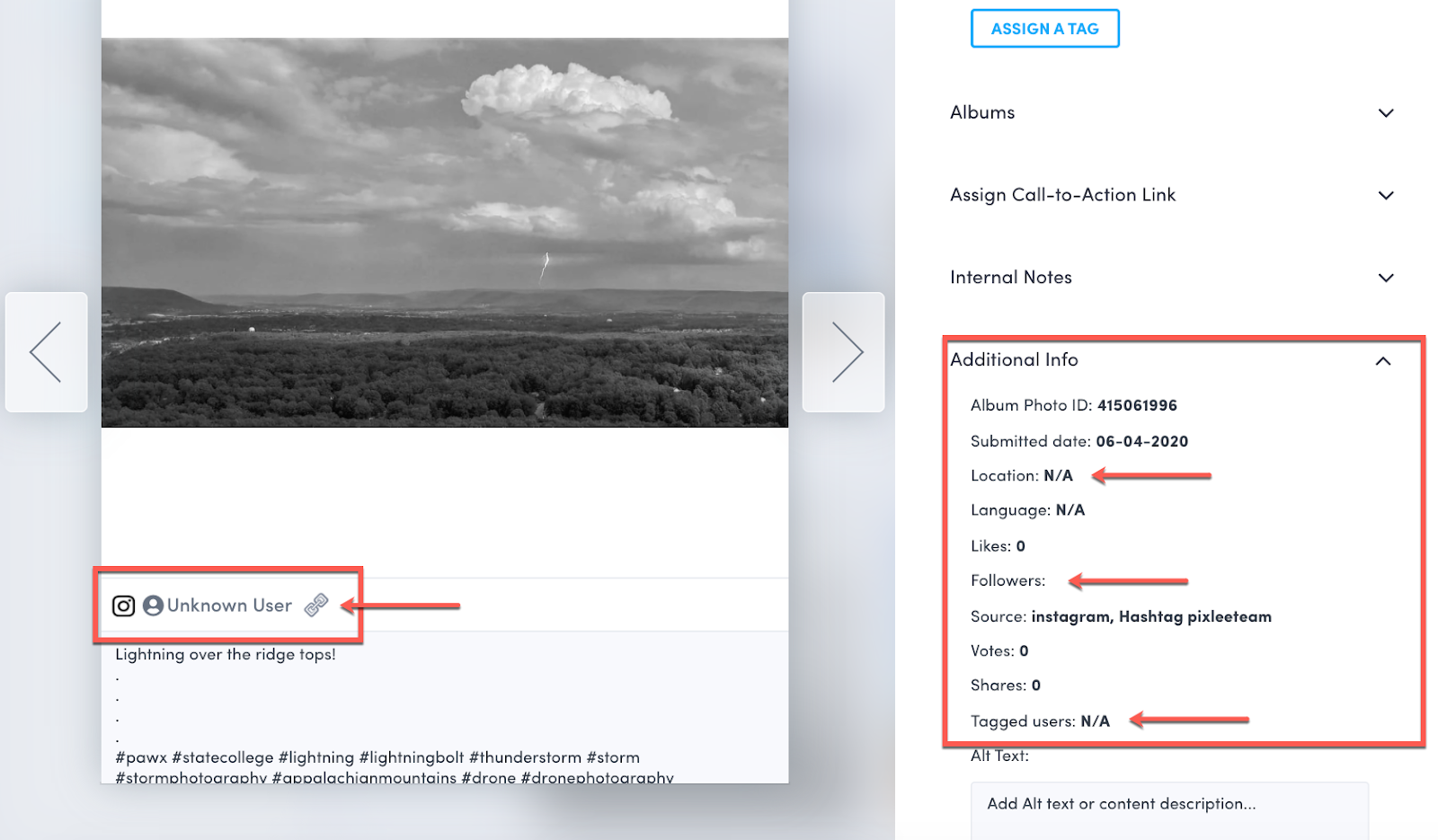 To have the user handle of your branded Instagram content displayed, please check the following:
The Instagram account is successfully connected within the social profiles settings

Your album is collecting directly from the Instagram user handle

Even if you're only collecting the branded Instagram content via hashtag, the user handle would not appear.
We would recommend for you to create a separate album called "Branded Content" that collects from your user handles that are connected to Pixlee. This should ensure that all branded content have been collected by our system.
As a reminder, you can continue to use the Pixlee Assistant Chrome Extension to request permission for Instagram hashtagged content to manage rights with Pixlee. When requesting permission via the Pixlee Assistant you will be mentioning your own brand in a comment. In doing so, Pixlee will be able to capture the missing information mentioned above. Click here to read more about permissioning with the Pixlee Assistant.
With these changes, we recommend setting up Instagram mention and photo tag collections if you haven't already, as content collected through these methods will not have the missing information that hashtag collected content does.
Second, when publishing a Pixlee widget display on your site, any content displayed that hasn't been mentioned or tagged with your brand will be labeled as "Instagram User". However, as best practice, we recommend displaying only permissioned content.

Instagram hashtagged content cannot be collected retroactively anymore because of the Instagram API update.
Instagram direct URL upload is a feature that is now removed because of the Instagram API update. If the content hasn't been collected by Instagram brand mention, brand tag, or hashtag follow these steps to collect the content:
Click into your social profile settings to see if your main Instagram business account is connected to your Pixlee account.

Ensure that at least one album has Instagram @mentions collection set.

Open up an Instagram content's URL.

Within the content's comment section, send a permission request as a comment that includes your @handle. We'd recommend using one of your Pixlee permission templates.

This piece of content will then appear in all Pixlee albums that are actively collecting @mentioned Instagram content from your Instagram business account.

Once the user grants permission, the content will automatically be marked as "Permissioned".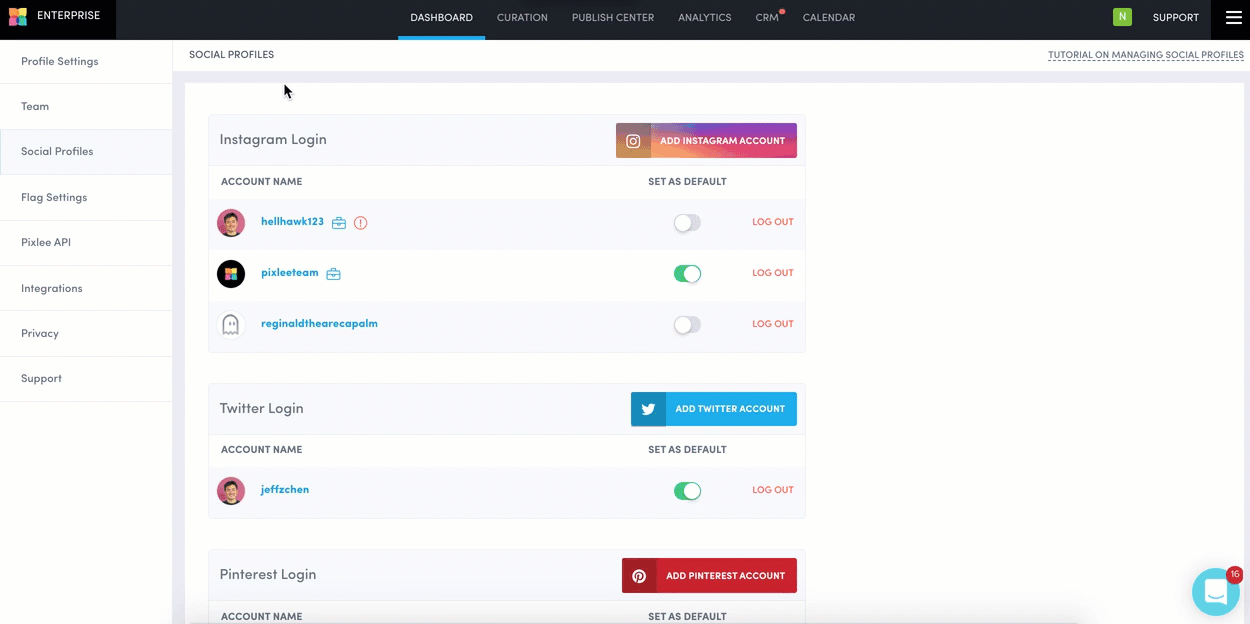 If you are uncertain if a piece content has been collected, use one of our filters to double-check if the content is present! For example, if you know a specific hashtag that they're using, you can use the hashtag filter to search for it.
Finally, Instagram now limits us to collecting 30 unique hashtags for every Instagram Business account that you have connected to Pixlee. You can collect from a maximum of 30 unique hashtags on behalf of an Instagram Business or Creator Account within a rolling, 7 day period. Once you collect from a hashtag, it will count against this limit for 7 days. Subsequent queries on the same hashtag within this time frame will not count against your limit, and will not reset its initial query 7 day timer. As an example, this means that if you have 3 Instagram Business accounts connected to Pixlee, you will be able to have hashtag collections running for up to 90 unique hashtags.
If you have any questions, please let us know via support@pixleeteam.com or through the in-app chat!