Set Up Filters in Community Feeds
Filtering allows you to customize what you see depending on your unique use case. This way, you can work smarter and focus on the most important conversations first.
Using inclusive (positive filtering) to display all messages that meet the condition. For example, select Esperanto to display all messages written in Esperanto.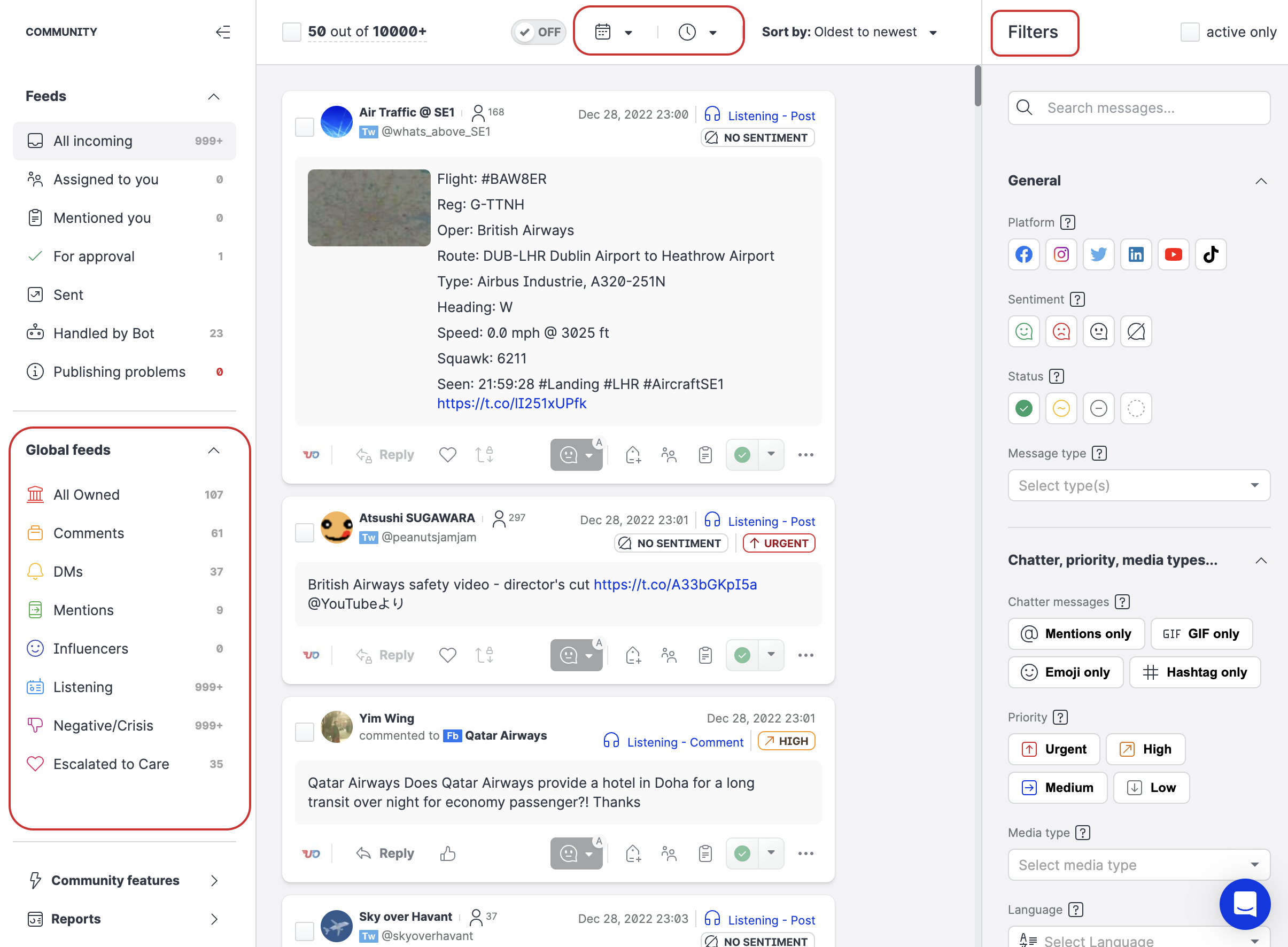 Define a filter
Defining filters that you want to apply to your community feed is easy.
Filters in the Emplifi community module are very comprehensive and give you detailed control over what gets displayed and will be filtered out.
We recommend that you devise your filters carefully to avoid unexpected results.
Steps:
In this scenario, we are creating a simple filter over the All incoming feed in Community. We want to display:
Instagram and Facebook messages

in English
Expand the General section.

Under Platform, click Facebook and Instagram.

Click Apply.
The media section closes and displays the filters setup summary.

Similarly, under Language, check the box to include English, then click Apply.

Click Filter.
Community displays messages to which your filter's conditions apply.
Save filter as feed
To use a complex filter setup with multiple conditions repeatedly, you can simply save it as a filter feed.
Filter feeds can be private or global. You can save up to 30 global and 15 private feeds.
Even after you make a feed global, some users might not see the feed's full content. This is because profiles, labels and other filter elements in the saved feed keep their individual settings.
Steps:
Complete the filter setup's steps 1 through 7 as described in the section above.

Click Save as feed.

Name your filter feed and define its visual appearance (color and icon).

Decide whether to make the filter feed private or global.

Click Save.
Your saved filter feed will appear in the left feed column in the Community module.