This document describes the upcoming software changes in Emplifi Agent version 12.1. This document does not cover previous releases.
Most changes to the software are available immediately after you upgrade; however, some changes may require setup or configuration before you can use them.
Introduction
Users of Internet Explorer (IE) Browser
Microsoft ended support for Internet Explorer (IE) on June 15, 2022. Please visit the Lifecycle page on Microsoft's website for more information.
Emplifi supports the latest versions of the Chrome, Edge (including Chromium), and Firefox browsers.
Users of ePowerCenter Earlier than 10.5
Emplifi Inc. no longer provides Development support for ePowerCenter versions earlier than 10.5. Contact your Customer Success Manager to plan for an upgrade.
Users of PCEmail using CIC 2015 R1 and Earlier
Emplifi Inc. no longer provides support for CIC 2015 R1 and earlier versions for PCEmail users. Contact your Customer Success Manager to plan for an upgrade.
Help File
The Emplifi Agent Help provides detailed documentation on how the system works. To display the Help topics provided in your most recent upgrade, click the Help button (or press [Ctrl + F2]).
New Features/Enhancements
This is primarily a maintenance release for Agent, but there are a few notable enhancements to support improved workflow for administrators.
Better handling of large attachments with Email (A11-1249)
Several updates have been made to better handle large case attachments being send via email:
Email Size Limit
A size limit can be defined in a Configuration (Email) that is used to prevent large emails from being sent. This feature is designed to prevent/reduce emails from being returned by corporate email systems that enforce size restrictions. The size limit is an estimate and should be set several MB below any anticipated limits to account for rounding/estimating errors. For example, if the email size limit for your corporate email server is 16MB then 12MB is a reasonable limit.
The Email oversize action setting is used for automated emails (such as Notifications triggered by an Action). Messages and Notifications that are sent manually provide users with a warning and allow the user to adjust the included attachment(s).
No action (or is not specified) will ignore the limit.

Block send will stop the Notification from being sent and log the failure in the Notification log (visible from the case).

Remove attachment(s) over limit will remove attachments until the estimated size is below the specified limit. Adding 'Responsible Rep' to the CC or BCC to a Notification has been added to provide visibility to resulting email.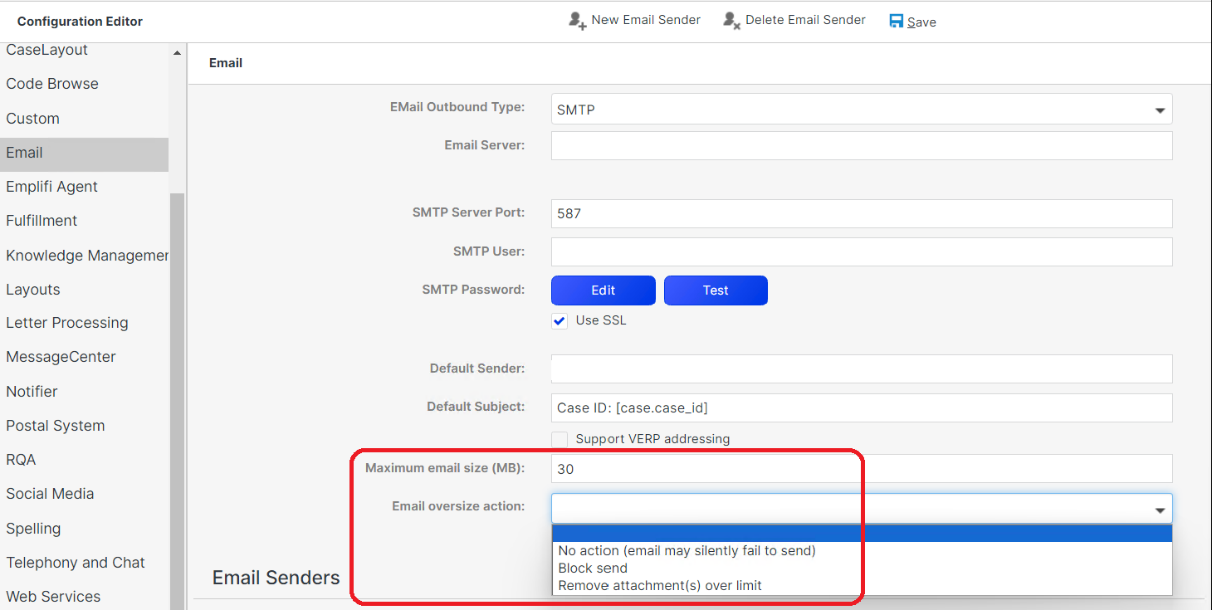 If no configuration settings are made the current default behavior will be used (no limits enforced by Agent)
Send Attachments as Links
A new option has been added to Notification definition and the manual Message/Notification window that allows attachments to be sent as links (instead of attached files). Recipients must be named users in Agent (no license required) to view the attachments.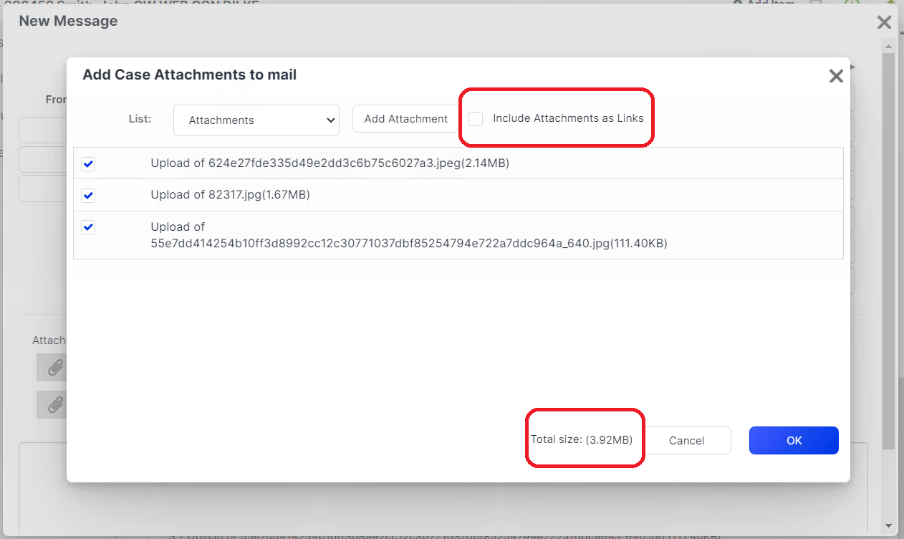 Enhancements to Layout Editor (A11-1354, A11-1101)
Updates have been made to the Layout Editor and Windows Details dialog to simplify the process of editing layouts.
Layout Editor updates
It is best practice to edit layouts at the highest level needed. This is particularly important for systems that have multiple companies and/or configurations. The highest level is the Standard layouts that come with the system (also commonly called the base layouts).
Layouts are edited via the LayoutEditor, but are stored in XML documents. The naming convention of these documents is helpful in understanding the "Level" of the layout being edited:
The highest of layout definitions are stored in the LayoutList.xml file in the system's custom folder. Edits made at this level will apply to all user that do not have a lower-level layout edited. It is used for the baseline layouts used by most (or all for simple deployments where user/role-specific layouts are not needed).

The next levels are based on the Company, Configuration, and then Language

The Lowest Level would be LayoutListCSYSGDEFAULTen.xml for most systems
To promote the best practice of editing at the highest level and to provide better visibility to the level being edited, the layout editor will now default to displaying the layout at the level that is being used for the current user.
Example, if the CaseEditCaseFullH has been edited for the SYS Company and users in the DEFAULT configuration, then the Source File will be LayoutListCSYSGDEFAULT. If the layout has not been modified at any level, it will be Standard.
Prior to 12.1, the default values for these elements were based on the current user and there was no visibility to the current customization level. This contributed to users inadvertently editing the layouts at a lower level than was likely needed (which could cause duplicate effort and increased complexity).
A new dialog has also been added that provides more granular control when generating layouts. Layouts will be generated for each combination specified as a separate call to the backend. This will allow the process to be cancelled during the process if a large regen request was accidentally made or there are significant errors in the initial generated group that need to be addressed before proceeding.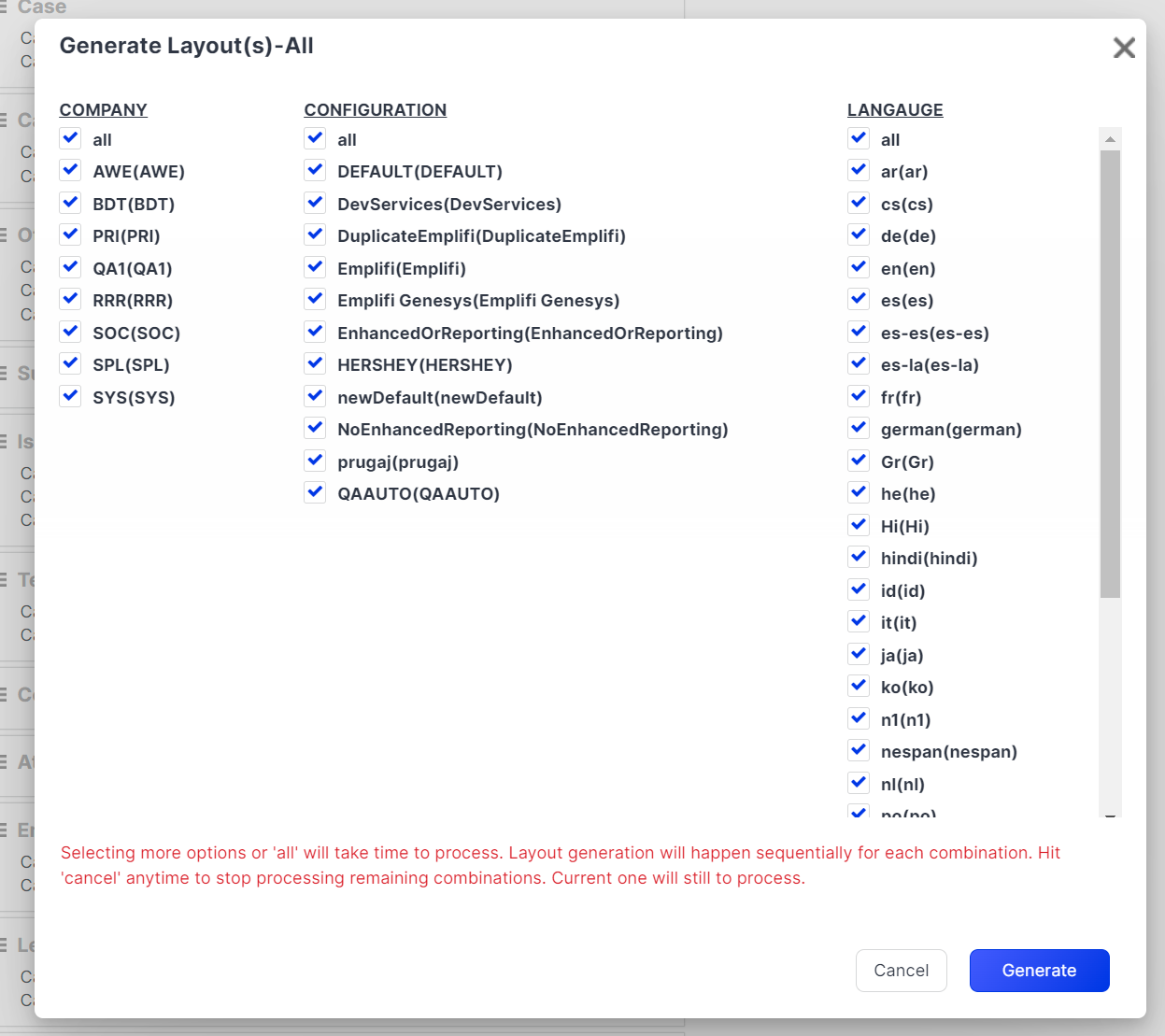 Quick access via Window Details
Several updates have been made to the Windows Details dialog (accessible via Ctrl+Q, user must be in an active field).
| | |
| --- | --- |
| | The View Name now has drop-down that displays the layouts present in the current view |
| | The current layout can be regenerated and reloaded directly from this window |
| | The Edit Layout button will open the Layout Editor and navigate to the selected layout/view. |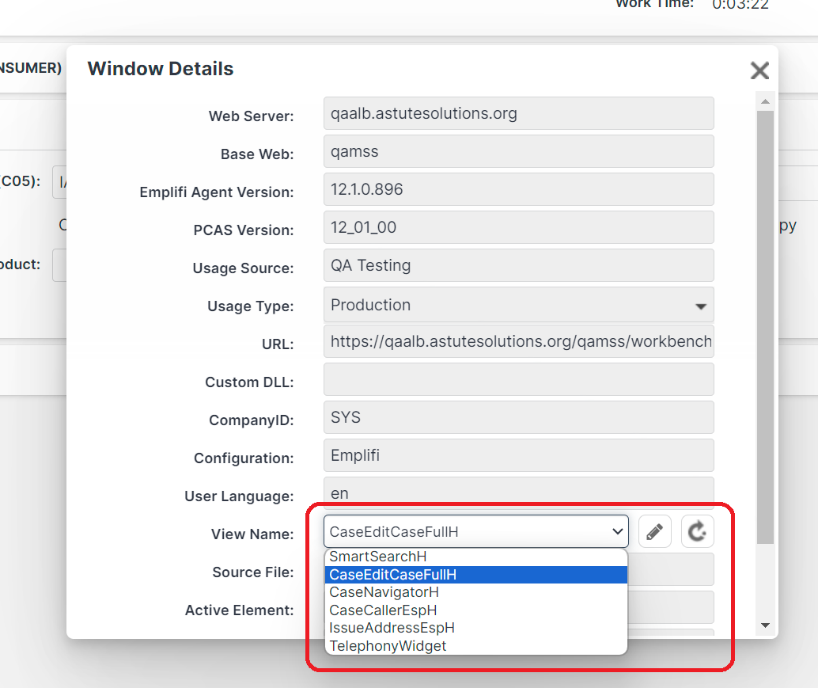 Summary of new features/enhancements for version 12.1
New Feature Description

User Impact

Case ID

Project ID

The default view in Admin for key "Code+Table" categories and configuration elements is now the "Table" instead of the "Code". Example: when you navigate to a Product/C01 code, the 'Product' tab is displayed by default instead of the 'Code' tab. This is part of the 'Save-a-Click' initiative.

Administrators

A11-1356

If "Export date time in sortable format in Excel" is checked on the Case Listing Report, but invalid data is trying to be used, the Report will be created with the data as a text string, instead of an Excel date for that cell.

Administrators

A11-1394

Another "Save-a-click" item: Users will now be kept in place when saving a Configuration. Previously, the Configuration was reloaded, and the user was moved back to the first section.

Administrators

A11-1342

A new feature has been added that allows a detailed case report (defined using Standard Letters of type 'Label') to be generated for each case that is selected in a Case Listing report. This feature existed in the Classic version of ePowerCenter.

Administrators

144484 202729

A11-344

Enhanced the layout editor to provide better visibility and control for editing layouts and different "levels".

Administrators

A11-1354

Enhanced the product to make it easier to find the correct layout to edit and make regenerating layouts easier.

Administrators

A11-1101

Added the ability to select a different number of results that should be returned when using the Single Address lookup. Default if left blank is 5.

Agents

A11-1361

Added the ability to retrieve the latitude/longitude from address providers for Single Line Address Lookup (if licensed).

Administrators

A11-1319

Several updates have been made to better handle large case attachments being send via email:

A configurable email size limit.

Ability to send links (instead of attached files).

'Responsible Rep' can be added as cc/bcc recipient to Notifications to provide more visibility to automated processes.

All

A11-1249

Moved 'Support Tools' to Application Menu (above 'About'), if enabled/requested via Emplifi Support team.

A11-1441

SCIM (System for Cross-domain Identify Management) Service to support enterprise Automated User Management systems to provision/manage users in Agent.

Technical services from Emplifi are required to deploy and support configuration of this service

Administrators

A11-1412
Bug Fixes
Summary of fixes to software elements for version 12.1
| Bug Fix Description | User Impact | Case ID | Project ID |
| --- | --- | --- | --- |
| Fixed an issue where in Standard the Date Picked and Date Voided labels were reversed in the Check Register Utility. | Reporting | 261327 | A11-1167 |
| Fixed an issue where the second or later issue on a case didn't always correctly enforce suggested mandatories prior to the save. | Agents | 263748 | A11-1164 |
| Made it easier to click on the buttons on the Case Edit page. | Agents | 267457 | A11-1265 |
| Fixed an issue editing time frames for a company other than SYS. | Administrators | 251394, 262356, 262693 | A11-159 |
| Updated Administration so that updating a password through User and Security Setup will enforce the Password Policies in System Setup. | Administrators | 146617, 262744 | A11-205 |
| Fixed an issue where the Date Picked and Date Voided labels were reversed in the Check Register Utility. | Administrators | 139419, 259827 | A11-963, A11-1117 |
| Fixed the Copy Survey option to properly show an error message if trying to use a name with invalid characters in it. | Administrators | | A11-1301 |
| Fixed the login page to properly be translated. | All | | A11-258 |
| Updated the validation check to prevent codes from being created with invalid characters. | Administrators | 145580 | A11-120 |
| Updated the log file for PCEmail to have the label "PCEmail" in the file name. | Administrators | | A11-1390 |
| Fixed an issue where adding a schedule could convert the Favorite to a folder. | Administrators | 265245 | A11-1303 |
| Added support for saving/sending a Chart report as an image file (PNG, JPEG, GIF, BMP, SVG) when scheduling. | Reporting | 145767 | A11-119 |