Voice of Customer
This release provides the following updates to Voice of Customer.
New Field Added to make Survey Questions Optional
We have added the ability for you to make survey questions optional by using the new Is Required checkbox. Within the Survey Builder, when adding or editing a question, you can clear the Is Required checkbox to make the question optional on the survey. This field is selected by default. When you clear the checkbox, your customer may skip the question without providing an answer.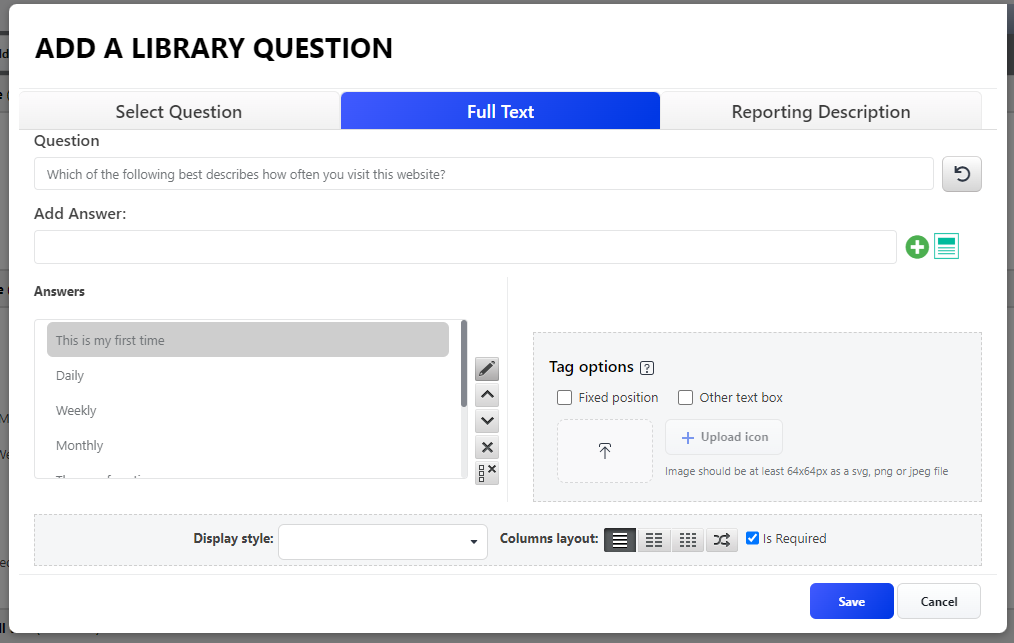 Custom Icons for Survey Answer Tags
On single-select and multi-select survey questions, we have added the ability to display a custom icon or small image files for answer tags. This allows you to customize the answers tags according to your brand. When you use Survey Builder to add or edit a question and choose either the Single-select or Multi Select > Custom question type, you can add custom icons or upload your brand's image files for each answer tag. Below is an example of icons being used with survey answer options.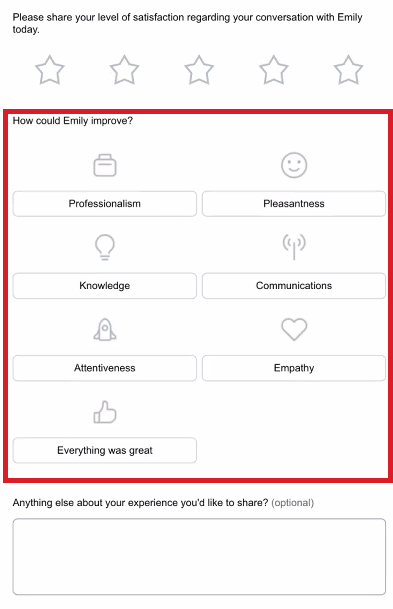 Star Rating Scale in Emplifi Collection
We have added the Star Rating scale to be available for any new Emplifi collection. This scale can be used for any single-select with score questions that you are adding to your survey. Below is an example of the Star Rating scale.

Improved Alerts and Alert Sensitivity
The Alert feature is enhanced to track decreases in volume, as well as increases in volume. When either of these volume thresholds are reached, an alert email message is sent. For example, you can track the number of users who visit your website for a particular purpose. If the number of visitors decreases (based on the threshold that is set), you will receive an alert email message of the occurrence.
This feature is set up in the Alert configuration on the Alert Sensitivity tab. You will enter the conditions shown in bold:
Users will receive a notification when the conditions are met [number] time(s) or [More or Less] per [number] hours.
For example:
Users will receive a notification when the conditions are met 5 time(s) or Less per 24 hours.
The Alert email content is improved to show the following information in the message:
Project name

Question text

Question ID

Answer tag

Criteria keyword

Alert "More" or "Less" than selection

Number for hours

Number for volume
Added Save Confirmation on Survey Builder and Engagement
We have added a confirmation message when you leave the Survey Builder or Engagement areas with unsaved changes. When you attempt to leave the Survey Builder, the Users page with edits to project permissions, or the Engagement tab invite without saving the changes, you will receive a message confirming that you want to leave without saving your changes.
Updated Action Icons for Survey Builder
We have updated some action icon buttons on the Survey builder. When you do not have permission to perform the action, the button is disabled.
On the Survey Builder main page, we have updated the icons for the Hidden, Edit, Archive, and Activate/Deactive buttons.

On the Archived Questions page, we have updated icons for the Restore and Delete buttons.

Minor Bug Fixes
We have fixed several minor bug issues.