Integrate Emplifi with Cloud Storage Providers
With Emplifi' integration with cloud storage providers, the use of Publisher, Community and Content Collections is easy and streamlined. In Emplifi, you can easily access your shared assets from the following cloud storage systems and searches:
Link (URL)

Web Search

Google Drive

OneDrive
(private accounts only)

Box

Gmail

Facebook

Instagram

Google Photos

Dropbox

Bynder

Adobe Experience Manager
With the easy integration of cloud storage applications directly in Publisher, Community and Content Collections, you can improve workflows and collaboration, without the need to switch from one platform to another. This is an efficient and secure approach to working with content assets across the platform.
Where to find and use Cloud Shared Assets in Emplifi Suite
Publisher
To use this handy integration, start by going to Publisher.

Click Create New Post.

Select either the video, the camera/GIF or the album button, under the text box.

All the storage systems and search options will then appear in a sidebar (to be explained further below).
Community
Go to Community.

When you're replying to a message or comment, click the photo icon as shown in the screen below:

All the storage systems and search options will then appear in a sidebar (to be explained further below).
Content Collections
Go to Content Hub.

Press Collections.

Select the collection (or create a new one).

Press the Upload button.
(Supported file types include: .jpg, .jpeg, .jpe, .jif, .jfif, .jfi, .png, .bmp, .jp2, .j2k, .jpf, .jpx, .jpm, .mj2, .mp4, .ogv, .m4v, .mov, .webm)

All the storage systems and search options will then appear in a sidebar.
Restrictions: Content Collections is not GIF compatible.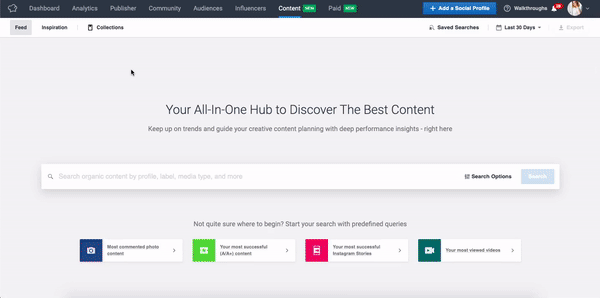 Storage Systems and Searches
After selecting either the video button, the camera/GIF button or the album button, all the storage systems will appear in a sidebar:

Depending on the chosen social media platform for publishing, the buttons might vary. For example, for Instagram, there are no GIF or album buttons available - only videos and photos:

In Content Collections, it is only possible to upload images -Videos, GIFs and albums are not compatible.
If you want to know more about the supported publishing formats, and sizes for each platform click here.
Searches
My Device
Upload files from your device. Pressing this button will open a new window where you can search through your device's folders. This option is not exclusive for the integration.

Link (URL)
Include GIF(s) or image(s) URLs by simply copy-pasting the corresponding addresses.

Web Search
You can search for anything here. All the images available for upload are copyright-free, so use them without restraint.
Storage Systems
There are currently 8 storage sources you can choose from: Google Drive, One Drive, Gmail, Box, Facebook, Instagram, Dropbox and Google Photos.
To use a source, you will have to authorize the storage system to access the files. For example, you have to enter your Instagram login to have access to the content published.

The small ON icons show which logins you are currently using. The login token is not kept for longer than a few hours, so you might have to have to re-authorize the storage system to access the files each day.

The small number icons display the number of content you are selecting from each source.
You can then easily upload the content and add it to your post, community response, or content collections. The preview of the photo/GIF will appear directly in the text area.
Finish off by editing the post however you'd like – and don't forget to preview the whole content piece in the right-hand sidebar. You can generate a preview for Desktop and Mobile here.
How to Request the Cloud Shared Assets Integration
Go to your Emplifi Suite Account Settings → Integrations & API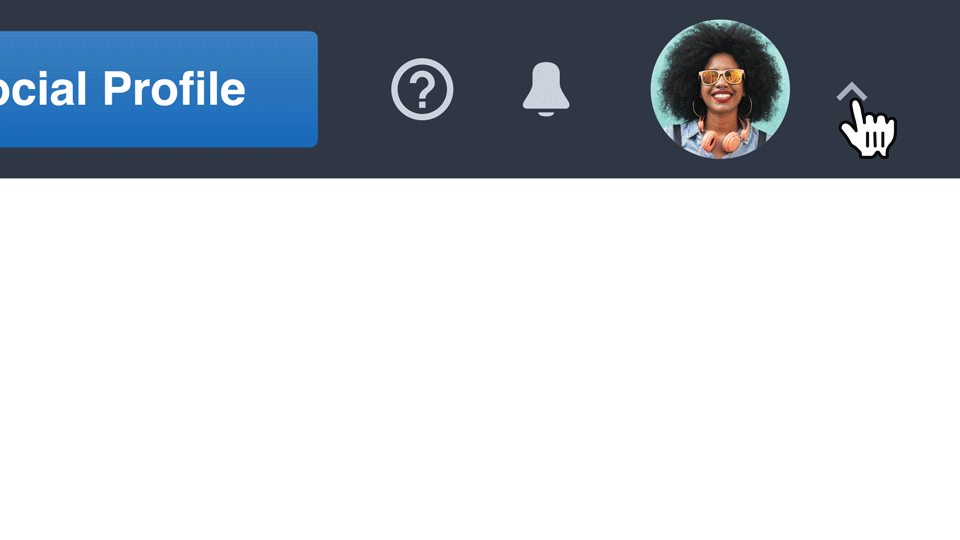 In this menu, you have all the possible integrations we offer displayed.
In case the Cloud Shared Assets integration is not yet activated, press the Request button - your Account Manager will automatically be notified and will contact you as soon as possible.