The Conversations page allows you to view every conversation taking place between users and your bots.
Accessing the conversations page
From the Application Bar, click Conversations.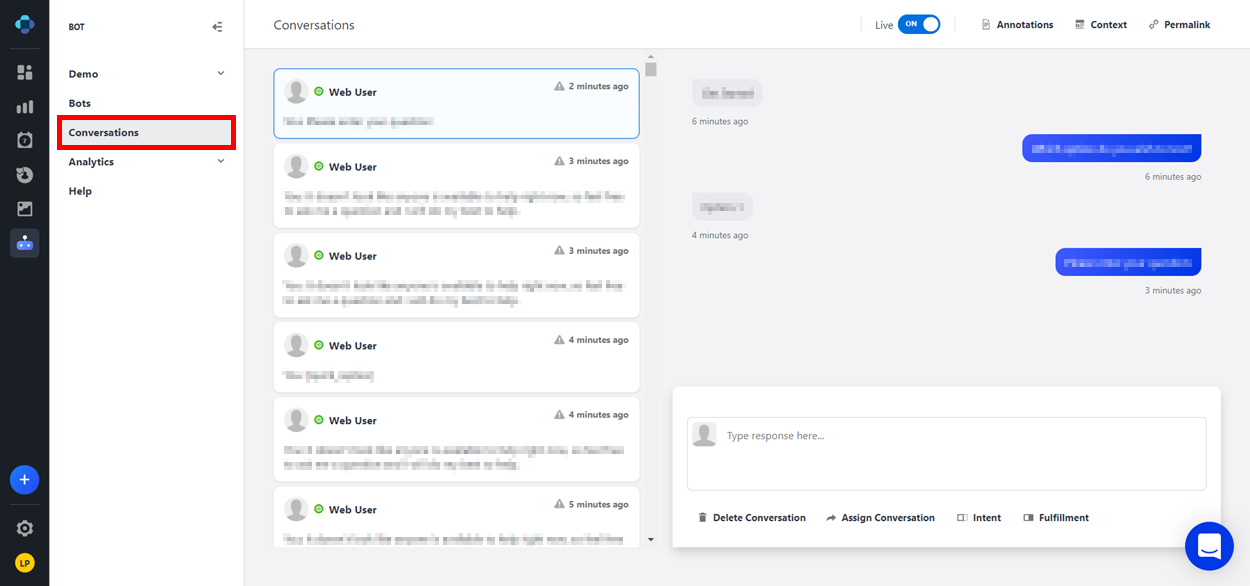 Conversations page layout
Conversations pane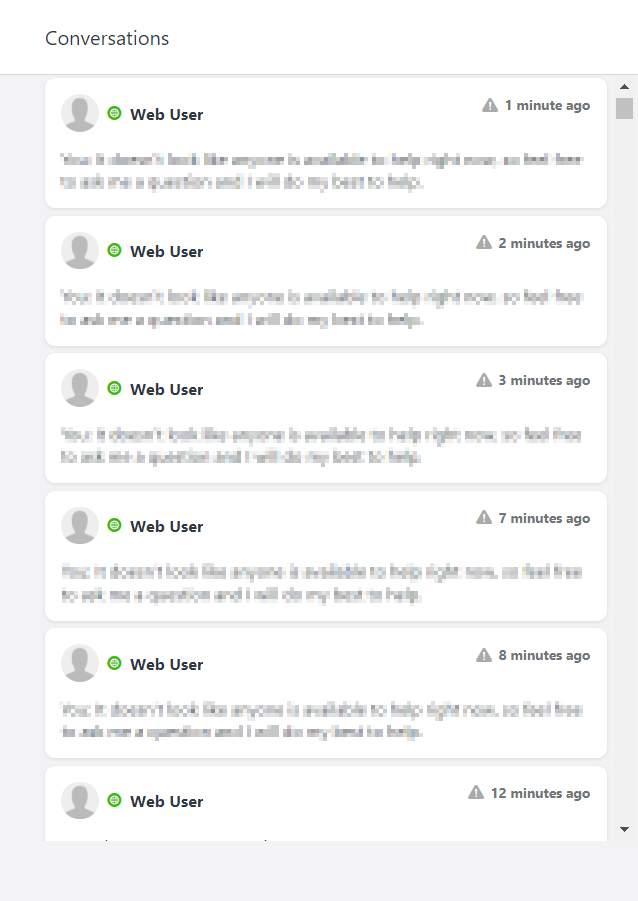 On the left side of the screen is the conversations pane. Here, you can see basic information about each conversation at a glance, including the social channel being used, the person who initiated the conversation, the date and time, and the message.
Next to each conversation is an Escalation icon. When this icon is red, it indicates that the bot cannot respond to the user. The bot will deactivate and the conversation is escalated to a live agent.
Chat
When you select a conversation in the conversations pane, the chat for it appears on the right side of the screen. Here, you can view a transcript of the previous messages between the user and the bot. If the conversation has been escalated to a live agent, you can also use this area to chat with the user.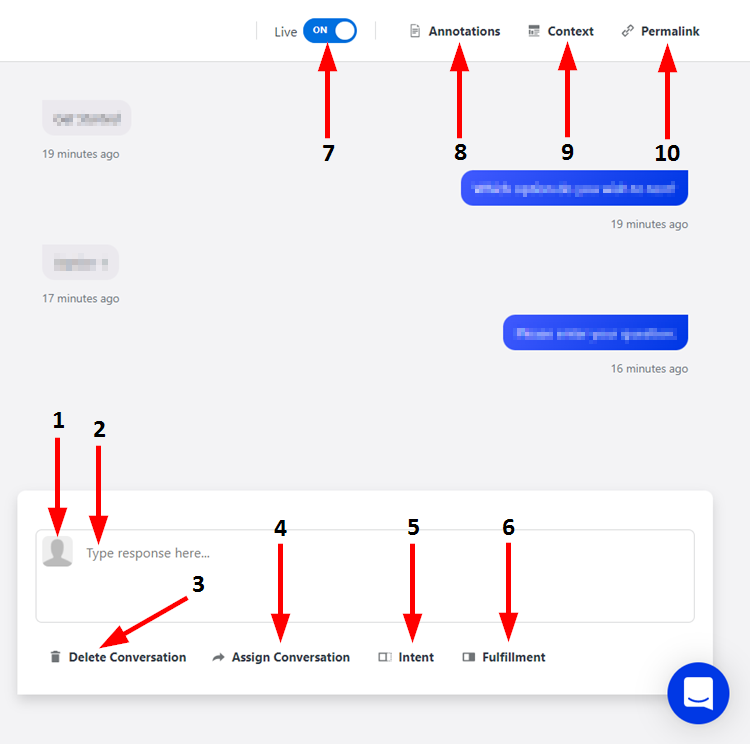 Number

Name

Description

1

Using Account

This shows the configurations of your agent account, such as whether you have Video and Audio Web chat enabled.

2

Response Field

Click here to enter responses to the user. When you are finished typing your response, click Enter to send it.

3

Delete Conversation

Click here to permanently remove the conversation and its history from Emplifi Bot.

The conversation will remain in the social channel where it was entered.

4

Assign Conversation

Click here to assign the conversation to a different agent.

5

Change Intent Handler

Click here to select a different intent handler for the conversation.

6

Change Fulfillment Handler

Click here to select a different fulfillment handler for the conversation. The user will be redirected to the fulfillment handler you have selected.

7

Live ON/OFF Toggle

Click here to choose whether or not live conversations appear in the conversations pane.

8

Annotations

Click here to view annotations for the selected conversation.

Annotations are conversation logs that appear in between messages in the conversation. These provide more detail on the decisions being made and rules being matched by Bot in the conversation to help troubleshoot issues.

9

Conversation Context

Click here to view any variables that have been set in the conversation.

10

Permalink

Click here to obtain a permanent hyperlink to the selected conversation, which you can copy and paste elsewhere.
Joining conversations
When you need to join a conversation, follow these steps:
On the Conversations pane, click the conversation that you want to join.
The conversation will display on the right side of the page.

Use the scroll bar to view the complete conversation.

In the Type responses here text field, enter a response for the user.

Press Enter. Your response is sent to the user without you having to leave the Emplifi Bot platform.