Identify the Right Influencers By Using Accurate Data Insights
In Emplifi Suite, identification and analysis of influencers can be done quickly and at scale. With extensive data insights, brands can select the right match to achieve their business goals and deliver a positive return on investment.
They can also avoid poor choices, detecting possible indicators of suspicious behavior, and influencer fraud. Suite can also be leveraged at key moments of influencer research – in the vetting stage and during collaboration.
Start Your Influencer Search with Key Specifications
Search the largest influencer database on the market by follower count, interest, country, and language to match influencers to your audiences and fulfill your unique objectives.
Want to increase engagement? Consider micro-influencers, selecting the appropriate follower count range in search. Are you a niche brand? Fill in your country to get influencer results for your local market. Or simply use Suite's integrated audience persona insights to get immediate results based on your personas' defined characteristics – focusing on what really counts.
Results are displayed in a way that allows you to make the best selection easily and quickly. The most authentic profiles are shown first, with poor choices ranked low or automatically filtered out – helping to eliminate the issue of fraud altogether.

Analyze, Sort, and Select the Right Match Based on Smart Results
Smart Interests
Easily recognize interests that are considered most engaging by an influencer's followers. Influencers with high performing posts about the interests you specify are ranked higher in the search results, meaning the right match is closer than ever.
Also pay attention to the strength of an influencer's interests, indicated by both order of the interests and the intensity of their color. This allows you to get a quick overview of the importance and legitimacy of their interests straight away, so you can make sure they get consistent interactions on topics that matter to you.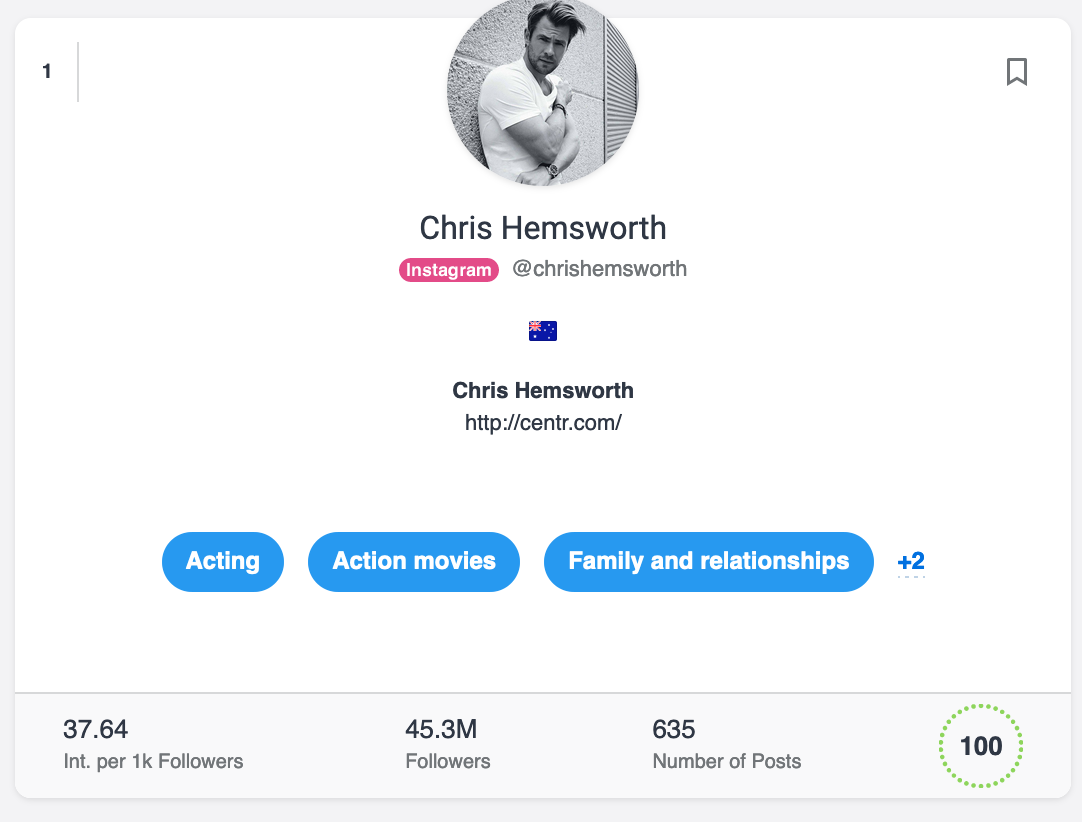 Influencer Score
Influencer Score is a comparative grading system for all influencers in the Emplifi influencer database. Allowing you to easily identify top performers, Influencer Score takes into account key engagement metrics such as Sum of Interactions, Interactions per 1k Followers, Number of Followers, and posting activity.
Create Your Unique Shortlist with In-depth Influencer Details
Once an influencer catches your eye, click on their details to get a comprehensive overview of their activity and performance. With these details easily accessible from the side panel, it's easy to add transparency and objectivity to the process and create your unique shortlist.
If an influencer meets your baseline requirements, save them to your favorites using the bookmark, and discuss and rank them with your team and a wider group of stakeholders.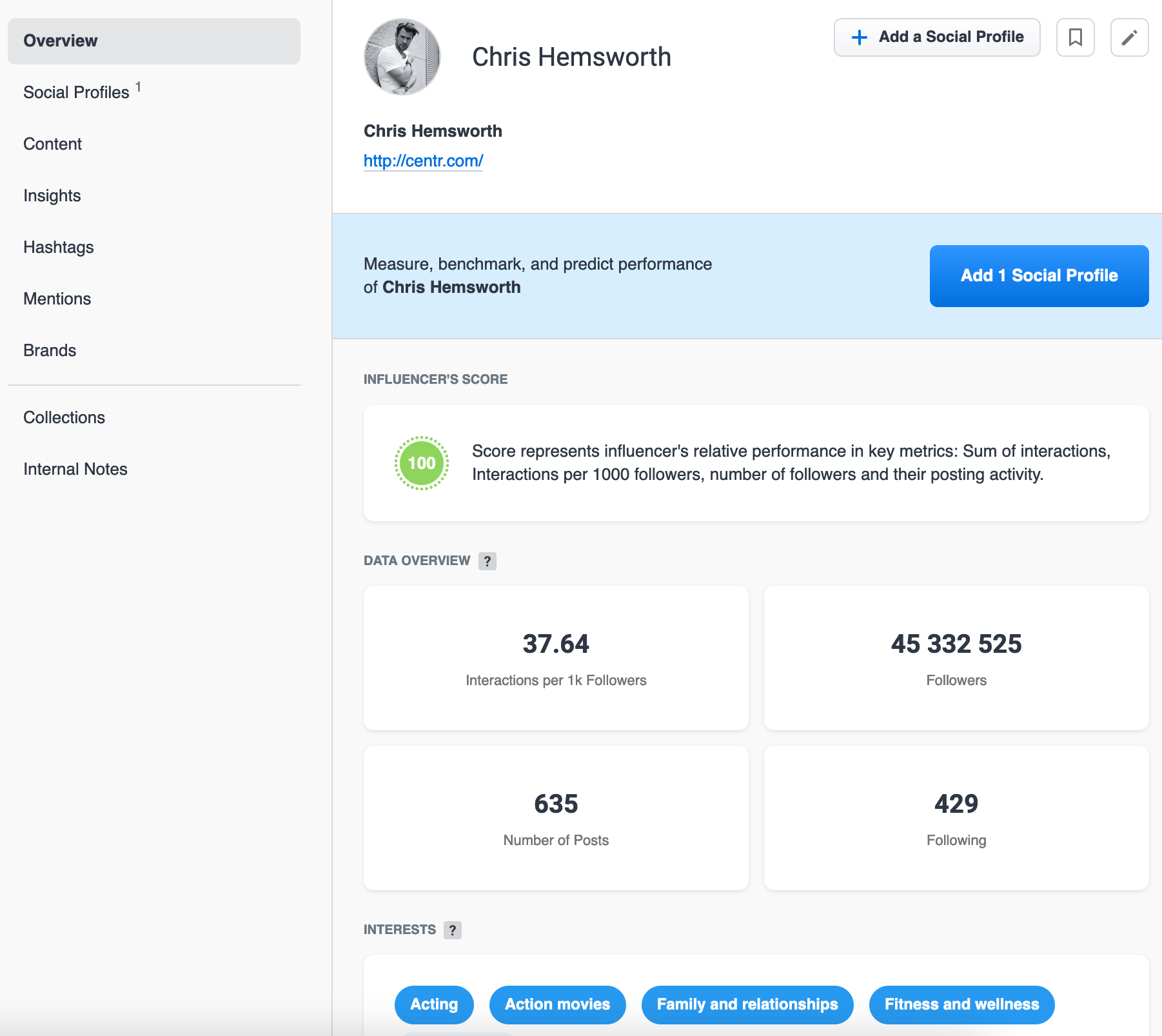 Avoid Untrustworthy Influencers Through Performance Analysis
The Transparency of a Business Profile Badge
Without a business profile, an influencer is unable to prove their success, meaning partnerships with them will be less transparent and less secure. Any influencer clearly marked with a pink business profile badge in Suite can be monitored using Emplifi' analytics and customized dashboards. Click "Add Profile" from an influencer's details and you'll be on your way to a deep analysis of their social performance.
The Honesty of the Engagement to Follower Ratio
Asking the right questions from your data can help you decide whether an influencer is legitimate. Look at the follower growth over time, as well as the Engagement to Followers ratio. Does the influencer have steady growth, or can you spot unusual changes in audience size?
Is their follower growth marked by suspiciously big surges or dips? Do they have a large follower base, but you see their engagement is dwindling? Benchmarking the performance of influencers over a longer period of time in this way can help identify anomalies associated with fraud.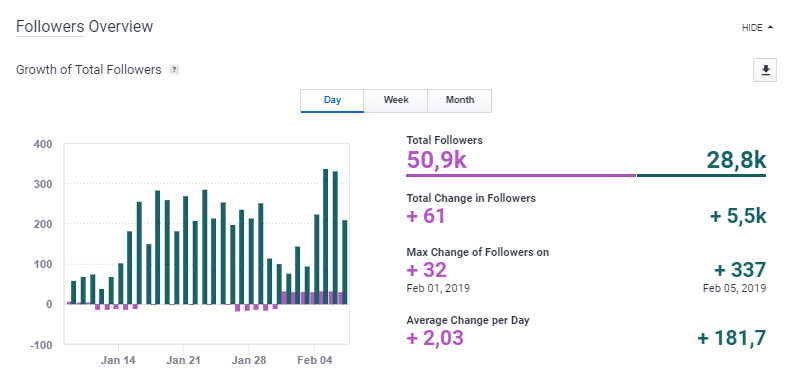 The Perspective of Interactions per 1K Followers
Fake accounts and fraud can lead to disappointing performance numbers, meaning brands don't always benefit from the authenticity characteristic of influencer marketing.
Consulting the Interactions per 1k Followers metric allows businesses to understand an influencer's engagement in relation to their audience size on a more granular level, so they can know whether an influencer's content is truly making a real impact with real people.
In the case shown, this influencer has almost 70k followers, which could indicate success at first glance. But scrutinizing interactions using this metric, you get a more accurate picture of how low engagement on this profile actually is – not even 1 percent. This insight should encourage second thoughts when engagement is a key objective.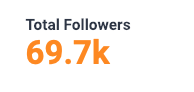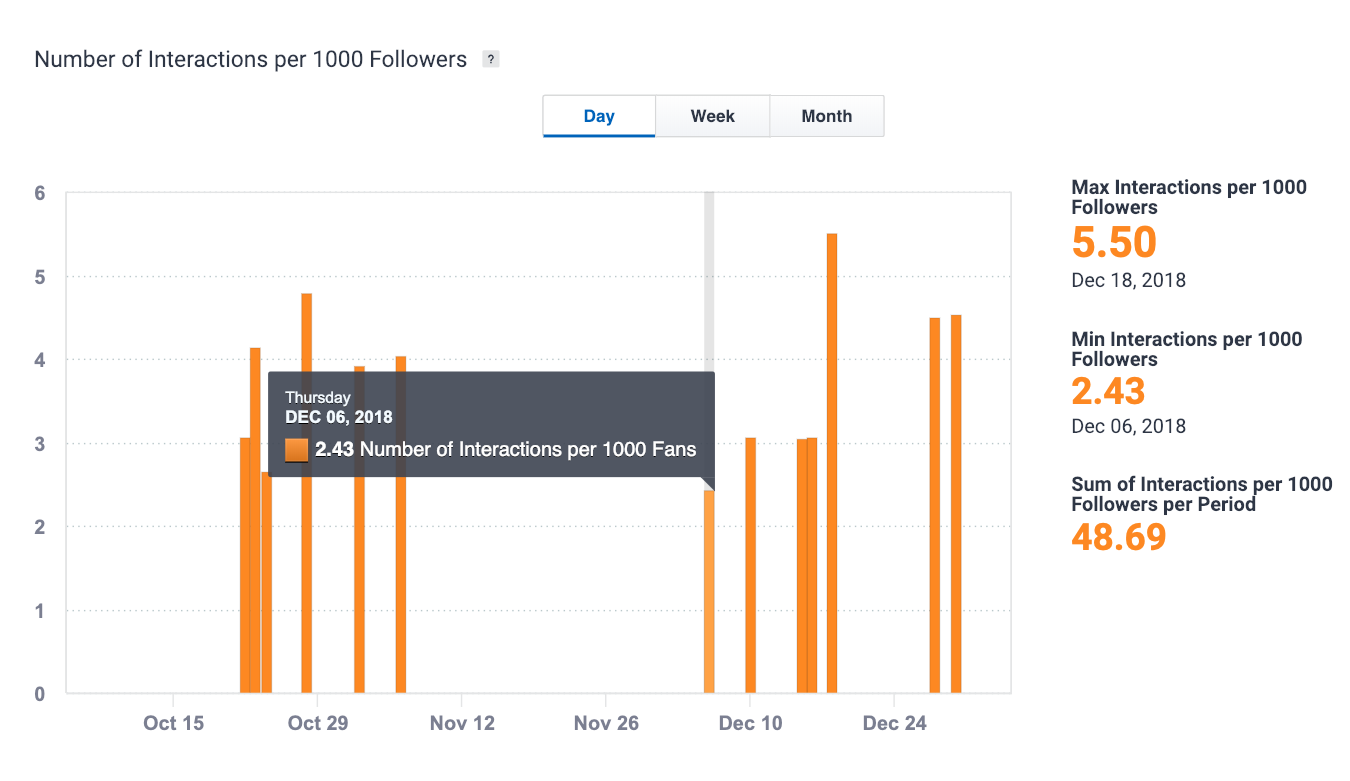 Monitor the Success of Influencer Marketing From a Single Dashboard
Influencer Dashboards
Once you've vetted your influencer picks and partnered with them, it's time to monitor their contribution to your success. In Dashboard, customize preset templates – such as Instagram Growth & Engagement – to see all influencers at once for a holistic view of your influencer campaign.
Widgets and Data Visualizations
Experiment with various visualizations of widgets in Dashboard, depending on your unique needs and reporting preferences. You can organize widgets for side-by-side comparisons, allowing you, for instance, to compare your own branded campaigns and influencer marketing campaigns.
Automated Exportable Reports
There's no need to create complex reports from scratch, something that usually takes hours to do. Once you've created custom dashboards, you can export them at the click of a button. Choose your presentation format – including PPTX, XLS, and PDF – and automate delivery by email to easily share your results with key stakeholders.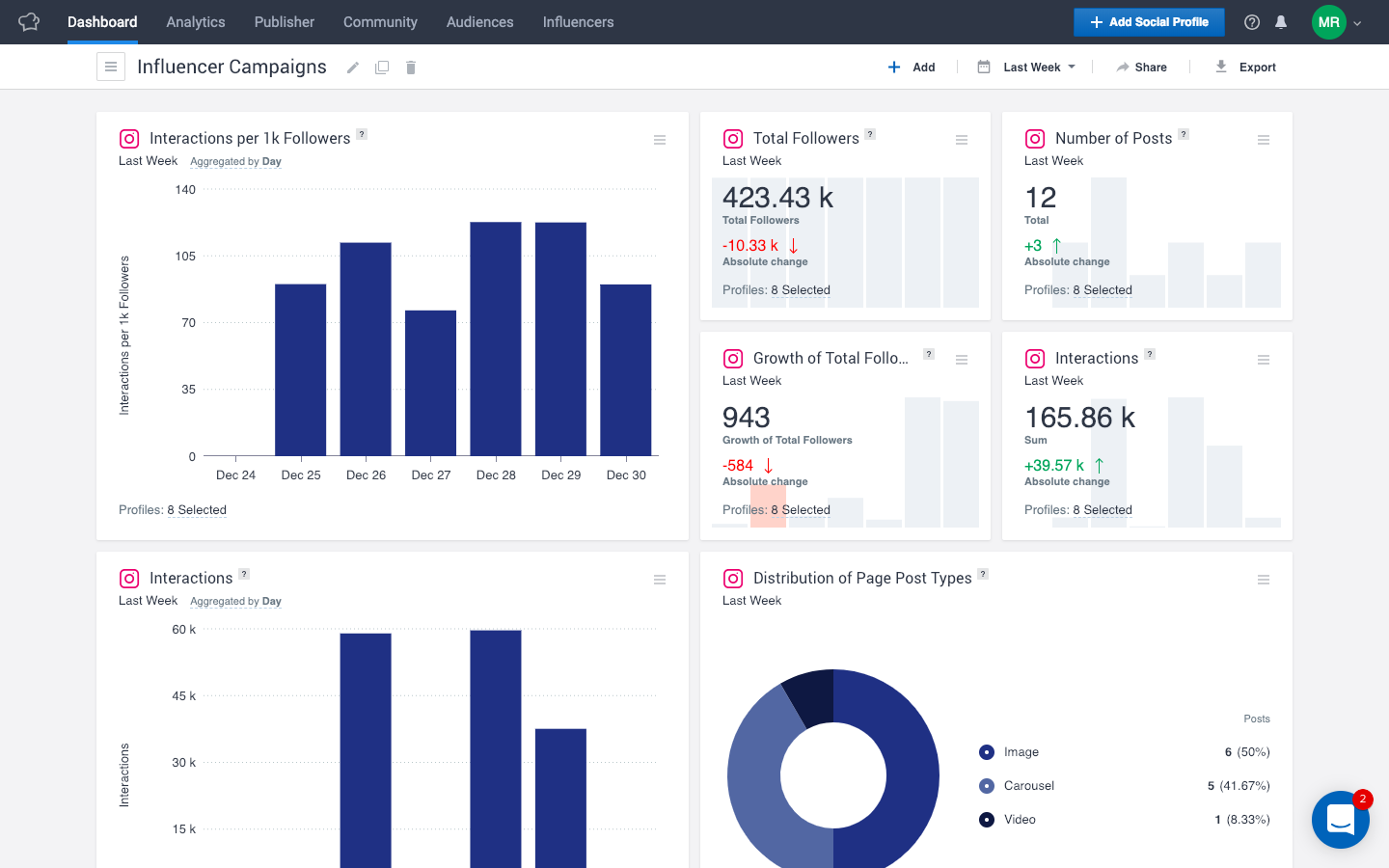 Partnering with the right influencers can boost a brand's visibility on social media. But without a clear-cut vetting system, finding legitimate influencers and weeding out fraud can be difficult and time-consuming.
Let Emplifi Suite do the heavy lifting. Following the influencer search and discovery flow, you can easily scale your influencer marketing research and analysis – bringing authenticity and transparency front and center.