How to Organize Your Team's Influencer Marketing Workflow
Emplifi Suite takes the headache out of finding the right set of influencers for your campaigns. Simply select your unique search specifications, preferred platform, and you'll be presented with top results in an instant. Just like any smart search engine, most relevant results are shown first, with low quality choices automatically filtered out or demoted.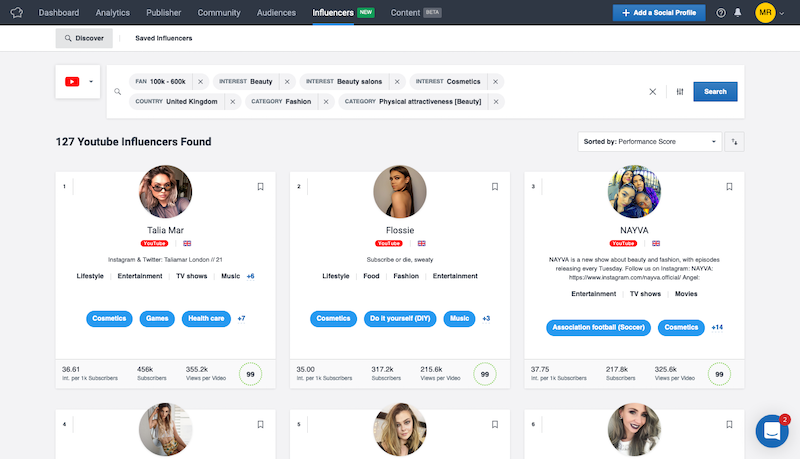 Once you're presented with results, Emplifi gives you the tools you need to make the right decision. With extensive data insights available right in the platform, your teams can drastically reduce the time and energy it takes to sift through options, discuss pros and cons, and land on the right set of personalities to get your voice heard. Let's see how your teams can organize, rank, and discuss your ideal shortlist of influencers, right in Emplifi Suite.
Organize Collaboration and Campaign Planning with Influencer Collections
To streamline the decision-making process and improve discussions, you can create what are called Collections. Collections helps your team organize the vetting and selection process. With collections, you can save and group influencers from all social platforms however your team needs to. Grouping influencers into collections is useful for a numbers of reasons:
Saving your faves
Consider a collection as your online shopping cart. Drop your potential faves here and then make the big decisions later. Check our their performance metrics more deeply, whenever you get the chance. When you save them to a collection, you can access their influencer card any time without having to search for their profile again and again.

Collaborating as a team
Influencer collections help teams focus discussions, check items off the to-do list, and move the selection process forward without delay. Instead of talking in circles, forgetting which profiles have been nixed, or mixing up campaign themes and strategies in conversation, use collections as a way to streamline thoughts and keep the decision-making process as methodical as possible.

Getting the OK
It's smart to group influencers together who seem like a good fit for a particular campaign. Perhaps you have a campaign in the works for a specific marketing persona, product launch, or season. Gather your chosen influencers together in one common place so you can discuss and rank them with your team and eventually, wider stakeholders. With collections, there's no confusion about which influencer should be considered for which campaign, making the sign-off process smoother for everyone involved.

Benchmarking performance
Both the vetting and collaboration stages should not be based on guesswork. Data is the guide here. In Suite, all performance metrics, profile details, and must-know info on influencers are available front and center. Collections help you track and benchmark top performers, make difficult cuts and additions, and curate the perfect set of influencers your teams can be confident about.
Organizing teamwork with Influencer Collections makes a difficult process streamlined and scalable. Easily search, sort, and track the performance of these shortlists to improve the decision-making process.
Scale Team Processes with Transparent Validation Stages and Breakdowns
With status markers, it's even easier to track the stages of validation and analyze your shortlist by specific attributes, key for maintaining and managing the workflow as a busy team.
In Collections, use statuses to track and organize the decision-making process about the various validation stages, such as Research, For Approval, Approved, Contact, Deal, Declined. Create your own validation status names based on your unique team processes. These indicators help marketers plan and distribute work, depending on team size and structure.
Using Breakdowns, you can select how you want to view and organize your Collection, based on what's most important to your teams. Group influencers within Collections by certain attributes, such as these statuses, or even age or gender for a clearer view on the types of influencers who've made it this far. With breakdowns, analyzing and benchmarking your options based on key information is simple.
Select how you want to view your collections with Breakdowns. An organized collection supports your team's structure and workflow.
Use Internal Notes to Drive Lively and Relevant Discussions
What's a discussion without talking points? To keep teams focused on what counts, add quick notes up to 500 characters each directly to an influencer's details, so you won't have to think back to why you loved them in the first place. With your influencers neatly sorted into collections and notes filled out, it's easy to have productive discussions, ask the right questions, and bring up valid concerns, with sports-like brackets, rankings, and the best of the best coming out on top.
Keeping your train of thought
The search process can feel like a frenzy at first. Save as many good-looking profiles at once and then come back to make the next round of cuts. Any thoughts that come to mind, write them down! It'll make returning to your workflow that much easier.

Helping the team work smarter
Depending on your team size and structure, you may have your own team roles in place. Are you the one who makes the initial list of potential influencer profiles? Leave notes, questions, and directions for whoever's in charge of the next stage, so they can start their work with the right context and approach.

Saving for later
Maybe an influencer ends up not being the right fit for a specific campaign and you delete them from a collection. Even in this case, your note will remain on the influencer card, so that if they end up being someone interesting in the future, you'll be supported by the wisdom of past-you, giving you a little nudge in the right direction.

Leaving reviews
Did you end up collaborating with an influencer on a campaign? Leave a paper trail and a quick post-game wrap-up. How well did it work out? Would you want to work with them again? Praise, feedback, and reviews will come in handy next time you consider them for a partnership.
Power discussions or keep tabs on your thought process as you move forward with the vetting process - with easily accessible internal notes.
Influencer marketing is an integral part of modern marketing. It's here to stay. So it's key to make sure it's not a permanent stressor too. Emplifi Suite will help you improve your approach to influencer marketing by removing the complexities, hiccups, and confusion that can often make it feel overwhelming. With an organized process, you can easily validate the best choices together as a team, get the buy-in from upper management, and execute engaging campaigns that will really resonate.